Review: Try to see this clever show by December 18
What an excellent production of 'Great Expectations' by the Attic Theatre Company at the newly opened Merton Arts Space in Wimbledon Library.
Officially opened by Mayor Brenda Fraser on Friday December 2, the small but, dare I say it, select audience was treated to a telling of the familiar story as directed by Louise Hill in what is to be her swansong with the company.
While Tom Chapman as Pip is central to the plot and is therefore on stage for most of the play, the remaining actors of the company portray the other characters with aplomb, changing as they do from one to the other seamlessly.
I particularly admired Derek Howard in his switch from convict to solicitor but the entire cast (Hannah Boyle, Rory Fazan, Anthony Glennon, Rhiannon Neads, Roger Ringrose, and Carmen Rodriguez) was wonderful in their multiple parts.
Designed by students from the Wimbledon College of Art, the set is creative and imaginative with the actors using the props cleverly; a ladder easily converts from a table top to the front part of a carriage while the 'books' strewn about the stage provide clever hiding places for smaller props such as dinner plates and tankards.
I could go on about the cleverness of it all ad infinitum but better to see for yourselves before the run ends on December 18.
Safe to say, it was a wonderful production and an excellent choice for the inaugural foray of Merton Arts Space and I look forward to many more in this new venue.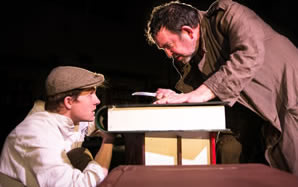 Review by Anne Horsburgh
Pictures from the show by Jack Ladenburg.
December 9, 2016