Part of initiative to encourage people to try golf
Top ladies' golfer and European Solheim Cup captain Carin Koch played an exhibition round at Wimbledon Common Golf Club today (April 30).
Carin played nine holes on the Camp Road-based course as part of National Golf Month, which encourages more people to give golf a go in May.
This year there is a special focus on persuading more women to try golf and Carin was joined in Wimbledon by Kate Hoey MP, the Mayor's Commissioner for Sport in London and a former Minister for Sport.
Wimbledon Common Golf Club has been picked as the perfect venue for the launch of National Golf Month as it was an all-male club until 2005, but now has a thriving women's section and a successful ladies' academy.
Market research in 2014 commissioned by Syngenta, a golf course turfcare specialist, and one of the many sponsors of National Golf Month, revealed 5% of women in the UK said they would be 'very interested' in taking up golf.
However, the research also showed that golf in the UK continues to be perceived as expensive, a sport for older men and requires club membership, potentially putting off new players.
Carin played her round with the club's ladies' vice-captain Joanna Croker and Wimbledon Park member Lauren Horsford, aged 18, Surrey ladies' champion.
Carin said: "It's amazing how this club has changed from being all male to having a successful ladies' section. It's also great to have something like National Golf Month, as it's an opportunity for people to try out the sport."
Club golf professional Jeff Jukes explained that the ladies' section has grown to 61 members since it started in 2006. Last year the club began a ladies' academy, to encourage beginners to pick up a golf club. Nine of the 10 ladies who joined last year's academy became full members this year, he said.
"I love playing golf here, especially the social aspect of it," said Joanna Croker. "It's also very special to be able to play on Wimbledon Common", she added.
Club President Jack Miles, aged 102 and a member since 1947, was not shy of speaking up about the drive to get more women into golf. "I think the introduction of women here was the best thing to have happened here. It's just marvellous", he said.
Kate Hoey, who took time off the election campaign trail to back the initiative, said: "People from all backgrounds are made to feel welcome here. I hope this is the first of many opportunities for people to get involved and give golf a go."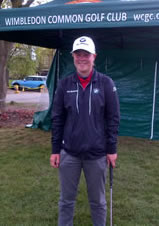 Talented teenage golfer Lauren Horsford (left), from Raynes Park, jumped at the chance to play alongside Carin. She added: "My dad got me into golf and quite often I have to play with men. But it's great for girls to play with women, and it's nice to see something like this."
Doug Poole (below right), Project Director of National Golf Month, said the initiative aimed to reach out to 20m non-golfers during May, with the hope of attracting 100,000 people to try golf during the month.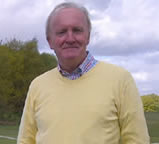 "Women are the key because we want to see a growth in golf. The model of it being an all-male game has changed, but to get families along we want to encourage more ladies.

"Leisure time is important and what a better way to spend it than playing golf? You only need play nine holes if you want. It's also a social sport, it's exercise and you can play in a group or go out and practice on your own," he said.
To take part in a National Golf Month free taster session at Wimbledon Common Golf Club or a course near you, visit: www.nationalgolfmonth.com.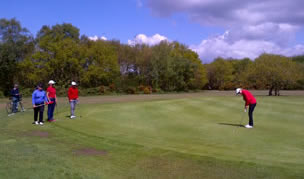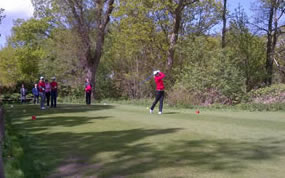 April 30, 2015