Road set to be shut for 18 months for town centre hotel building work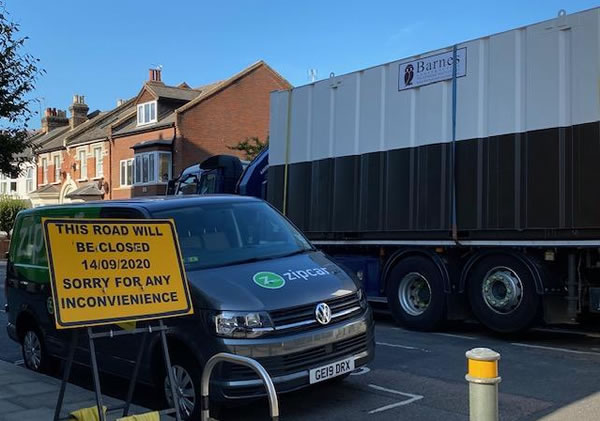 Sign in Graham Road, Wimbledon

Residents furious at Merton Council's plans to close their Wimbledon road for 18 months are to block it to traffic this weekend in protest.
Signs went up last week to say that Graham Road was closing on September 14 but with no indication of the length of the closure.
People in Graham Road, Wimbledon, say they were given no notice of the closure that will cause major disruption.
Kate Turner, spokesperson for the local residents, said there was no consultation and the first they knew about the closure was when a series of signs went up - just days before it was set to come into force.
"As residents of Graham Road we are absolutely shocked that we can be treated like this. Our road is scheduled to be closed for 18 months so that the Travelodge building contractors can build their site office and toilet block in the middle of our road.
"This is a blatant misuse of public land. We are putting pressure on all parties involved to have a rethink," she said.
Hartfield Road hotel development site
Neil Robinson, Graham Road resident, added: "Everybody who lives in Wimbledon knows the impact that one road closure can have on all the other connecting roads - to shut Graham Road for 18 months is crazy and will impact far more people than just us.
"There is surely a way the council and builders can be flexible and smart with this road closure, recognising the local impact across Dundonald ward - we just need them to listen to us now!"
Anthony Fairclough, Liberal Democrat Councillor for Dundonald Ward, said: "This is an awful start to the major building works and people are angry and disappointed.

"It's not acceptable that Graham Road residents weren't even told about the plans to close their road for 18 months - much less given the opportunity to discuss their concerns with the Council.
Even at this late stage we're hopeful that the Council will revise these proposals to reduce the impact on people's lives."
Merton Council has been contacted for comment.
The road is being closed while an eight-storey Travelodge is built in adjoining Hartfield Road, following the recent demolition of the Victorian terrace.
September 11, 2020