Fury as landmark trees are axed along Plough Lane
A remaining tree stump. Pic courtesy of Cllr Ed Gretton
Eleven mature trees have been felled outside the Wimbledon Ford dealership in Plough Lane, despite being in a Conservation Area and one of the area's busiest roads.
The trees, thought to be 30 years old, were a landmark surrounding the forecourt of the TrustFord dealership, providing what local Councillor Ed Gretton called "much-needed greening on a busy and polluted road".
The Wimbledon Park Conservative Councillor visited the site when he was alerted to the felling of the trees last week and asked the dealership to undertake no more work until council officers can visit, and has asked Merton Council to investigate as a priority.
He said: "This is a disaster for Plough Lane and a real mistake by this Ford dealership. I am asking them to acknowledge their error, apologise to the local community, replant and restore this line of greenery along the perimeter of their site.
"The trees in this location provided much needed greening on a very busy and polluted road as well as providing shade for pedestrians and cyclists, helping lower temperatures and improve amenity in a developed and built up area."
TrustFord said: "TrustFord, who recently acquired the Wimbledon dealership, took the very difficult decision to remove smaller trees in order to improve safety, visibility and access for visitors including transporter vehicle deliveries.
"Our Chairman and CEO said, 'We take any decision with potential environmental impact extremely carefully and, although none of the trees on site are on a tree preservation order, we have kept what we could in place, including the largest tree on the property and those to the rear and side at Copper Mill Lane in-keeping with the Copper Mill Lane Sub-Assessment. Plans are already underway to plant new shrubbery on Plough Lane.'
"We recognise that this action has caused some dismay and are working with environmental representatives and the local authority on plans to plant wild flowers and encourage wildlife on the riverside of the site with the goal to hide the power grid."
The familiar line of trees as they were on the edge of the forecourt. From Google Streetview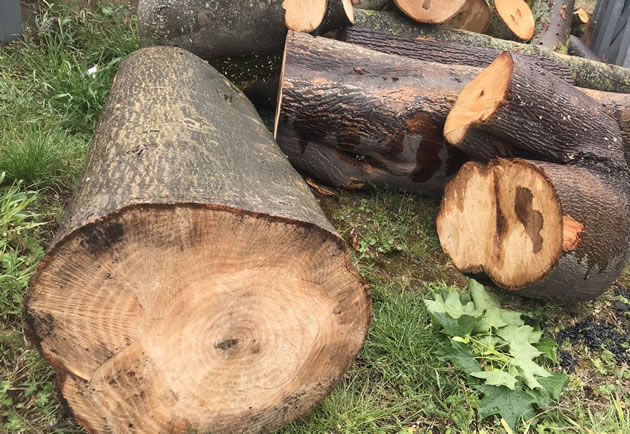 Some of the felled trees. Picture courtesy of Cllr Ed Gretton
The Wandle Valley campaign group was among those who pointed out that the dealership falls within a Conservation Area where notice is required for works to trees that have a trunk diameter of more than 75mm.
Regulations state you have to give your local planning authority six weeks' notice before carrying out work on trees which are located in a conservation area but are not yet the subject of a tree preservation order. This gives the authority an opportunity to consider whether an order should be made to protect the trees.
There is no evidence TrustFord gave Merton Council any notice of the work.
@WandleForum replied on Twitter: "Thanks for engaging with the issues - you need to explain how you were unaware of the Conservation Area status of your site and move quickly to reinstate the felled trees or face being enforced to do so. Why not commit now to make the site greener than when you acquired it?"
@MarkGale also pointed out that the land sits on a flood plain, and environmental activist @Abbajayboo said: "They've only gone and chopped down mature trees along one of the busiest dirtiest roads in the area at peak nesting season. No excuse - a real shame."
@YourTotalEvent added: "What safety, what visibility and where are the access benefits? Sympathetic pollarding could have solved any perceived problem but you decided to destroy these lovely trees instead, shame on you."
May 17, 2021