Future for local landmark now more secure
The Chapter House of Merton Priory, a landmark religious building dating back to 1117, but largely hidden by modern developments, could soon have better public access.
The remains of the former Augustian Priory mostly lie underneath the A24 Merantun Way and Sainsbury's hypermarket in Colliers Wood and are rarely open to the public.
But Merton Council has now been handed £400,000 and a parcel of land by landowner AXA Sun Life Plc to secure a more public future for the remains of the Chapter House.
The funding and land transfer were agreed as part of the planning application for the Merton Abbey housing development on land south of Merantun Way. Subject to Cabinet approval, the deal means the council will be in a good position to enable the leverage of additional funding towards ensuring the foundations of the Chapter House will be properly displayed, allowing residents a clear view of the historic site.
It then completely disappeared until major excavations were undertaken when the Sainsbury's hypermarket and Merantun Way were built in 1988.
Although the Priory itself was demolished in 1538, a good length of its boundary wall still survives. It stretches from the Sainsbury's recycling centre to the Christchurch Road roundabout, and can be seen from the Priory Retail Park, amid the undergrowth on the other side of the Pickle Ditch. A blue plaque (left) marks the site of the entrance to the Priory precincts.
There have been several excavations in recent years, including one by Channel 4's Time Team in 2002 which was on the site of the former Liberty's works at Merton Abbey Mills. It found a monastic building which was associated with the Priory.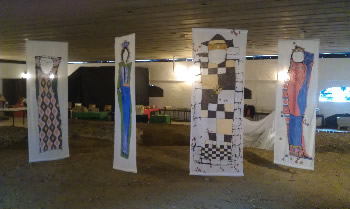 But the only access visitors can get is when members of the Merton Priory Trust, founded in 2003 to provide and support and education centre for the site, open it up for special events. The Chapter House was open for a recent art exhibition (right).
Council cabinet member for community and culture Councillor Martin Whelton said: "For too long the foundations of this historically significant building have been hidden to the majority of the public. We will be working with the Merton Priory Trust to ensure we come up with the best display possible to show off this remarkable monument to its very best."
November 2, 2011