Funding Boost For Wimbledon Community Projects
---
Nearly £1m made available for projects across Merton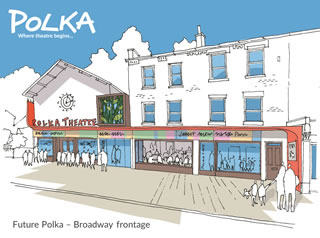 Fourteen community projects across Merton, including a number in and around Wimbledon, are to receive new funding totalling nearly £1 million.

The funding is from Merton Council's Neighbourhood Fund - which comes from the charges the council makes to developers to help fund the infrastructure or community facilities, needed to support new homes and businesses in the borough.
The council said a key component of awarding funding was ensuring that projects will contribute to Merton's community plans and priorities. More than £405,000 of funding has been earmarked for projects that help address income, health, and skills gaps between the east and west of the borough.

A number of projects will help support the demands that Wimbledon Stadium development in Plough Lane will place on the borough, including renovation the facades of the Haydon Road shopping parade, and the improvements to Haydon's Road recreation grounds.

Other local schemes to benefit include £40,535 for Deen City Farm, £95,000 towards the re-development of Wimbledon's Polka Theatre (plans pictured above), Merton Priory Chapter House and Merton Park Green Walks.

A number of projects to help 'bridge the gap' between East and West Merton have also been agreed. These include Supporting Commonside Community Development Trust's projects for residents on the Pollards Hill estate and in east Mitcham; a Children School and Families Employability Programme to increase access to the labour market for youngsters; façade improvements to the Bramcote Avenue shopping parade in Mitcham; and the Move More Mitcham project to support those at risk of developing a mental health disorder.

Cabinet Member for Regeneration, Housing and Transport, Councillor Martin Whelton, said: "We received many bids for funding in this round from residents, businesses and community groups, and we would like to thank everyone for their submissions. Our decisions were made taking into account our community plan priorities, which includes 'bridging the gap', and we believe they will make a substantial difference to our neighbourhoods along with the lives of residents.

Our popular and successful shopping parade improvement scheme will also help restore attractiveness and vibrancy to some of the borough's most neglected parades as well as boost trade and employment opportunities."

The 14 projects to be awarded CIL Neighbourhood Funding in 2019/20 are:
Supporting Commonside Community Development Trust £130,000

Merton Priory Chapter House performance space £46,430.

Merton Park Green Walks - new surface on footpath £13,000.

Revitalisation of Haydon's Road Recreation grounds £32,500

Signage for South Mitcham Community Centre £1,500

Deen City Farm £40,435

Shopping Parade façade improvements £274,000

Shopping Parades programme management (3 years) £165,000

Polka Theatre redevelopment £95,000

Employability Programme £60,904

Air pollution mitigation campaign – encouraging pupil involvement in STARS schools accreditation scheme £27,233

Move More Mitcham £27,820

Sustainable Merton Neighbourhood Champions £30,000

The Library of Things £37,320 to develop an equipment borrowing scheme.
July 17, 2019