Christmas present for shops and shoppers
Christmas shoppers won't be charged for using Wimbledon's council car parks during the weekends in December.
The move will save the average Wimbledon shopper £6 for a four-hour shop and is being seen as a boost to local shops.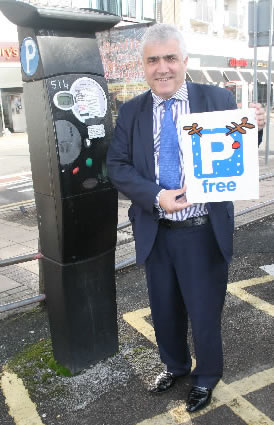 It covers all car parks owned by Merton Borough Council on the following dates: December 1, 2, 8, 9, 15, 16, 22, 23 and Christmas Eve.
Derick Ray, owner of Morden's premier electrical retailer Powerhouse Supplies for the past 30 years, said: "This is great news for businesses in Merton. Making the council's car parks free in the weekends running up to Christmas will encourage more people to shop in Merton which is good for the local economy."
Merton Council cabinet member for performance and implementation, Councillor Mark Betteridge said: "We are working to make parking in Merton fair and affordable. These are challenging financial times for lots of people and this is our way of making Christmas a little lighter on the pocket. Merton has got lots to offer shoppers, so hopefully free council car parks will mean more people shopping locally."
Council leader Stephen Alambritis is pictured above at Wimbledon's Broadway car park.
The council's car parks are:
Wimbledon
Broadway car park
Hartfield Road car park
Queens Road car park
St George's Road car park
Mitcham
Elm Nursery Car Park - London Road
Raleigh Gardens Car Park
St Mark's Road Car Park
Sibthorpe Road Car Park
Morden
Kenley Road car park
Morden Station car park
York Close car park
Peel House lower level short stay car park
Morden Park car park
Raynes Park
Coombe Lane Car Park
What do you think? Why not comment on our forum?
October 31, 2012