An extra 500 children to get free early education
Merton Council is to give more parents the opportunity to take advantage of free childcare and early education for two-year-olds in the borough.

The council is extending the free places to some low-income working families as well as the current families who qualify by receiving certain unemployment benefits. This means an extra 500 children will be eligible to benefit from free childcare.
The programme is due to begin across the country in September, but has been brought forward by Merton so more families can benefit earlier in the borough.
Parents who take advantage of the free childcare can be assured their children will go to an approved nursery, preschool or childminder in Merton for up to 15 hours a week, for 38 weeks a year. It gives children the chance to learn new skills, develop their independence and meet and play with other children.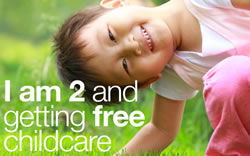 West Barnes Lib-Dem Councillor Mary-Jane Jeanes commented: "It is clear from evidence that children from poorer backgrounds often fall behind their wealthier classmates before they even set foot in school. That gap only gets bigger over time."
She said the news was a "welcome boost for lower-income families and will help to creating a fair society in the future."
February 3, 2014