Historic pub gets Michelin Guide honour
The Fox and Grapes pub by Wimbledon Common has been awarded a Bib Gourmand in the 2012 Michelin Guide.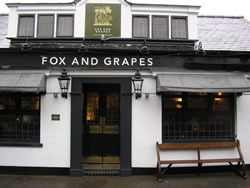 The Camp Road pub (left), was re-opened in February by Claude Bosi, best known for Mayfair's Hibiscus restaurant.
It is run and managed by his brother Cedrick and is their first joint venture since The Bell at Yarpole in Herefordshire.
Claude and Cedrick said of their Bib Gourmand: "This is a very happy day for us, we have been thrilled by the Fox's success to date and long may it continue."
Bib Gourmands are awarded to establishments that offer good food at a moderate price at £28 (€40 in Ireland) for three courses excluding drinks. There are 129 across the UK and Ireland.
Have you tried the Fox and Grapes? Why not comment on our forum?
October 17, 2011