Historic pub has had a £450,000 makeover
The historic Fox and Grapes pub by Wimbledon Common has re-opened today (February 10) after a £450,000 re-fit.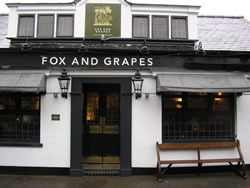 French brothers Cedrick and Claude Bosi, the chef patron of the exclusive Hibiscus restaurant in Mayfair, are the new owners of the pub.
The Camp Road pub has had major internal structural work as well as getting a new-look exterior.
The new owners pledged to keep pub traditions alive and although the eating area dominates the smart new interior, there are tables for drinkers. There are also three bedrooms for those who want to make a night of it.
The pub was buzzing on its first night, but Cedrick Bosi (left) took time for a chat. He said: "We are both French, but we like to use English traditional food, with a bit of a twist.
"We are also a pub, we do not want to be a restaurant. We want to be a boozer, and we have bar snacks including Scotch eggs and pork scratchings."
The main menu includes traditional-sounding dishes such as pork pie and piccalilli, with baby gem salad, (£9.50), Coq Au Vin (£15.50), Cumberland sausage on buttered chive mash and red onion gravy (£13.50), brown ale battered hake and tripe cooked chips with mushy peas (£13.50) and ox tripe gratin with Charlotte potatoes, shallots and chervil (£13.50). Desserts include warm apple crumble and custard (£7) and orange and saffron trifle (£6.50).
Beer drinkers can take note that the ale offering on their first day was Sharp's Doom Bar, Black Sheep Bitter and Hogsback HBB.
First night visitors included Merton Council leader, Stephen Alambritis, who said: "It is an amazing place and I hope this is the start of a fightback by solid, traditional, pubs. A lot of investment has been put into this, and I hope it will be re-paid".
The pub dates back to 1865 and it has earned a place in football history for many reasons - from 1868-1888 it was used as the changing rooms by what later became Wimbledon Football Club.
The pub subsequently hosted a drinking session by the players of Wimbledon the night before they beat Liverpool in the 1988 FA Cup final. In 2002 it was where a group of disgruntled Dons' fans started plans to set up AFC Wimbledon in response to their club's relocation to Milton Keynes.
It was also the setting for a performance by jazz legend George Melly in the early 1980s.
What do you think of the re-fit? Why not comment on our forum?
February 10, 2011