Development is set for approval despite objections to scale of scheme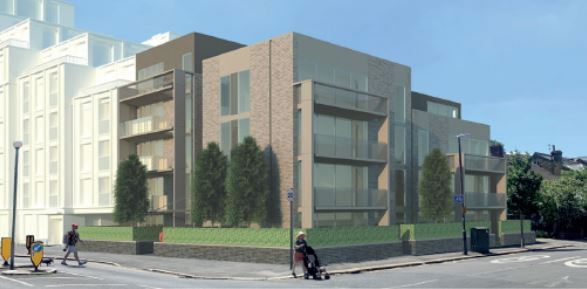 Flats plans for former Conservative Club site
Plans to demolish the former Conservative Club in Wimbledon town centre to replace it with a block of flats rising to five storeys have been recommended for approval.
Developers want to replace the existing two-storey building on the corner of Trinity Road and South Park Road with a new-build block containing 18 flats.
Chelsea-based Grove (Trinity Road) Ltd want to offer seven one-bedroom flats, nine two-bedroom flats and two three-bedroom flats on the site. There would be no affordable housing units as the developers state it would not make the scheme economically viable.
The councillors on Merton's planning committee are due to discuss the scheme on Thursday (April 28), but officers have recommended they give it their approval.
Officers state in their report to councillors: "There is no objection to the loss of the existing building and its use. The proposal would provide new housing in a highly sustainable location, making good use of a small brownfield site. The overall scale, height and relationship to surrounding neighboring properties is acceptable and would not cause material harm to neighbouring amenity."
A consultation report also submitted to councillors said most of the concerns raised by neighbours related to parking and potential congestion, as well as potential noise pollution caused by a communal roof garden.
Some respondents raised concerns about the height and density of the proposed building, with some arguing that this was out of keeping with the local area. There were 35 letters of objection to the scheme.
The council officers pointed out that the nearby YMCA building, on The Broadway, was now six to eight storeys in height. Permission has already been granted for a new building on that site which will raise to nine storeys.
But the Friends of Wimbledon Town Centre objected to the height of the proposed scheme. Gay Bennet-Powell said: "The scale of the new development would be excessive. The new building would come close to the street, unlike the houses on the street that are set back behind front gardens."
Chris Goodair, Chair of the Wimbledon Society's Planning and Environment Committee, pointed out that the building line does not match the neighbours in adjoining residential roads. He added that the planned solar panels would receive no more than six hours of daily sunshine outside April to August because of shade from the YMCA building.
April 25, 2022