Review: Fisherman's Friends at New Wimbledon Theatre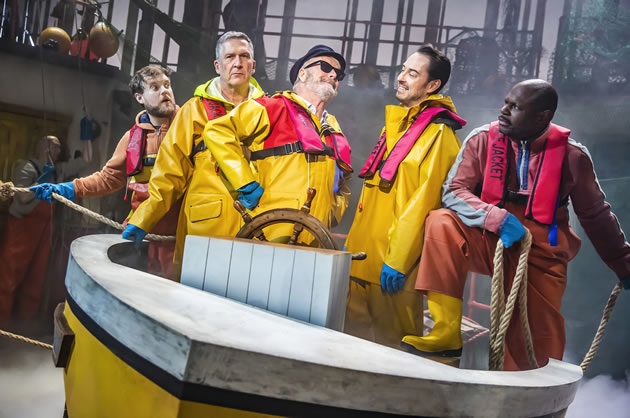 All aboard with the Fisherman's Friends
The nationwide tour of 'Fisherman's Friends' comes into dock at New Wimbledon Theatre on Saturday (May 20), offering fans the last chance to see musical re-telling of how a group of Cornishmen found singing fame.

In case you missed the initial rise to celebrity status of the original Fisherman's Friends in 2009, followed by the 2019 movie, this joyous musical centres on a band of fishermen from the Cornish cove of Port Isaac.

When city slicker Danny stays in Port Isaac while visiting the local rich kid, he chances on the Fisherman's Friends as they perform during their regular Friday night slot at the Golden Lion pub.

The strength and depth of the all-male chorus as they belt out their traditional sea shanties, captivates former music executive Danny. He decides to convince his former Island Records label boss to sign them - but first he has to get Fisherman's Friend skipper Jim to agree to his plan.

Gruff-voiced Jim (played by James Gaddis, and recognised by Coronation Street fans as villain Vinny) gives a compelling performance as the leader of the Fisherman's Friends, who are all full-time fisherman when not singing on The Platt. Once Jim gives in to Danny's plan, the group are off to London to find fame and fortune.

When they arrive in the capital, they head to Soho where our naive bunch of Cornishmen make themselves at home in a gay bay. This is where some of the musical's humour comes in, helping make it a night that will make you smile.

There's also a touch of sadness, when Jim's father and fellow group member Jago (Robert Duncan) dies while out at sea on his own. There's a love interest too, as Danny falls in love with Jim's daughter Alwyn (Parisa Shahmir).

The staging is very clever, with a cut-off version of a swaying fishing boat making you almost smell the open sea. The Golden Lion pub is equally as well portrayed.

But naturally it's the music that is the most memorable part of this show. It certainly makes a change to see a New Wimbledon Theatre stage dominated by men of a certain age.

As they sing their Cornish sea shanties, they certainly don't disappoint and it's no surprise that the record deal is signed and the Fisherman's Friends soon make the top ten in the charts.

Special mention must also go to the talented musicians who move around the stage seamlessly as they perform a range of instruments. It all means you can't take your eyes and ears off this production, making it a night to remember.
By Sue Choularton
May 19, 2023