Court hears of mouse infestation at Curry Royal
The owner of Wimbledon's Curry Royal restaurant has been fined for breaking hygiene regulations after 15 mice were found in just one evening.

Abdus Subhan was fined £1,700 after a mouse infestation was discovered during a routine food inspection undertaken by Environmental Health officers in October 2011.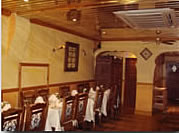 Officers also raised their concerns over the poor standard of cleanliness and inadequate hand washing facilities at the restaurant (left) in Hartfield Road.
Mr Subhan pleaded guilty to three offences at Richmond Magistrates Court on August 7.
Mouse droppings were found on chopping boards, tablecloths and inside condiment holders, the court heard.
During one evening alone, when the premises were closed, 15 mice were caught overnight. Mr Subhan agreed to close the restaurant whilst the infestation was treated. The building was thoroughly cleaned and disinfected with the owner employing a new pest control company who undertake inspections every two months.
Merton's cabinet member for environmental sustainability and regeneration, Councillor Andrew Judge said: "Our Environmental Health officers do their utmost to work with food businesses and restaurants to avoid closures and court action wherever possible.
"However, we have an absolute duty to our residents to put their needs first and we will not tolerate standards anything less than excellent when it comes to the public's health. Merton has adopted the Food Hygiene Rating Scheme and we encourage food businesses to display the rating or customers can find out how good their favourite restaurant is by visiting www.food.gov.uk/ratings."

August 20, 2012