Pub campaigners to meet council
There are fears for an historic Wimbledon Village pub as the owners admit they are in negotiation with the leaseholder about its future.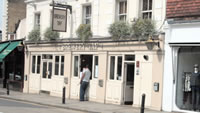 Locals fear the Brewery Tap (left) in the High Street, owned by Enterprise Inns, will be turned into shops and flats.
It's one of several pubs in Merton which the Campaign for Real Ale (CAMRA) is concerned is threatened with closure, and it will soon meet council officers to discuss the issue.
A pub has existed on the site of the Brewery Tap since 1832. It was built next to a brewery, which burned down in the 19th century.
A spokesman for Enterprise Inns confirmed negotiations were underway. She said: "We are currently in negotiation with the pub lessee about their lease of the Brewery Tap, and both parties have a wide range of choices still to be discussed and, we hope, agreed."
Leaseholder Garry Mallen said: "Unfortunately, I cannot reassure any customers of The Brewery Tap that there is any future of the building as a pub."
He said he would be applying to the court for a hearing to secure a new term as a pub, under the Landlord and Tenant Act 1954.
Geoff Strawbridge, Pubs Officer for CAMRA's South West London branch, will be meeting with Merton Borough Council to discuss how to make the council's strategic Pub Protection Policy more effective.
As well as the Brewery Tap, CAMRA wants to raise the issue of four other pubs currently closed or under threat of conversion for alternative uses: The Emma Hamilton in Wimbledon Chase (left); The Princess Royal in South Wimbledon; The Morden Tavern in Morden; The Ravensbury Arms in Mitcham.
Mr Strawbridge said: "We want to make sure we are doing all we can, in the most helpful ways, to preserve our community pubs at a time when financially stretched pub companies may have more interest in selling them for the cash they need to service the loans with which they bought them."
Merton Council Leader Councillor Stephen Alambritis said: "It is sad to see the closure of pubs in the borough. We are keen to meet CAMRA to discuss ways of encouraging pub owners to keep their establishments open. We value our pubs and have a Pub Protection Policy as part of our strategic development plan.
"In an effort to preserve pubs in Merton, we assess pub closure proposals rigorously and on a case-by-case basis. We insist that the owners demonstrate they have proactively marketed their establishment as a pub and show that there are alternative pubs in the local area. The owner also has to prove that their business is not economically viable before they close their business."
Meanwhile, there is some reassurance for regulars at the Fox & Grapes in Camp Road, by Wimbledon Common. It had an uncertain future after owners the Massive Pub Company went into administration.
But it has now been bought by the Jolly Fine Restaurant Group and a pub spokesman said it was soon to close for a 10-week refurbishment. He said: "The owners appreciate it is a village pub and they want to keep it as it is. It is being given a makeover".
October 5, 2010