Deadline looms for comments to council
Residents have until Sunday (September 23) to comment on plans to demolish an empty Wimbledon Chase pub and replace it with flats.
Developers Stadium Capital Holdings have re-submitted the plans for the site for planning approval by Merton borough council.
The original plans for a 5-storey block (below) with flats as well as retail units were amended following local opposition, with many feeling the scheme was too dominant for the area.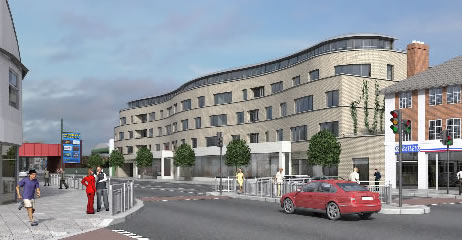 The council is taking comments on the new plans for 55 flats in a 4-storey block, with a deadline of Sunday September 23.
To make your comment, go to the Merton Planning portal: http://planning.merton.gov.uk/Northgate/PlanningExplorerAA/GeneralSearch.aspx
The application number is 12/P2328.

What do you think? Why not comment on the forum thread on the Emma Hamilton site?
September 21, 2012