Plague Drama In Merton Park
---
Professional theatre group on tour
Inspirational drama 'a different drum', performed by the Riding Lights Theatre Company, visits Merton Park on Saturday October 5.
It tells the story of the plague arriving in the Derbyshire village of Eyam, and with it comes a devastating decision. As the entire community chooses the bold path of sacrifice, they begin to march to a different drum...
Beginning in the 17th century, the play follows a thread through history to the present day, picking up accounts of others who have dared to break the boundaries of self-interest.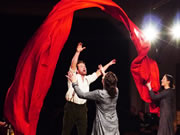 The York-based professional Riding Lights Theatre Company will be presenting 'a different drum' on:
Saturday October 5 at 7.30pm, Martin Way Methodist Church, Buckleigh Avenue, Merton Park, SW20 9JZ.
Tickets £10. Buy 10, get 11th free.
Box Office: 01904 613000.


September 2, 2013