Blue-coloured lanes may not be achieving aims
The cycle superhighways introduced in London earlier this year, including one starting from Colliers Wood, may not be achieving their aims.
More than half of respondents to a London Assembly survey said the routes did not make them feel safer. Many users said the blue-coloured lanes were too small.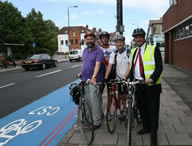 There are now 12 routes - including one which starts on the A24 at Colliers Wood tube station (left), giving cyclists the chance to get to Southwark Bridge on a safe route in 45 minutes
Transport for London, which operates the lanes, said cycling numbers had increased by 25% on the pilot routes. But the survey suggested just 1% said the scheme had made them start cycling.
Val Shawcross, who chairs the assembley's transport committee, said: "There are clear lessons that can and should be learned from the superhighway pilot schemes before we can be sure they are delivering on their objectives and are an effective use of scarce resources."
Tfl said its own research found more than 70% of people said the cycle superhighway roadside mirrors had made them feel safer.
And 61% of people said the lanes improved cycle safety along the routes, it said. A further 10 routes are due to be opened by 2015.
What's your opinion on the cycle lane at Colliers Wood? Why not add to the debate on the WimbledonSW19.com forum? Click here for the cycle lane debate.
December 3, 2010