Production involving local youngsters
To celebrate the bicentenary of Charles Dickens' birth, the Wimbledon Civic Theatre Trust (WCTT) will present 'A Dickens of a Life'.
The production will involve up to 400 young people from local schools and community groups in the Merton/Wimbledon area and will take place at New Wimbledon Theatre on June 20 and 21.

Whilst rehearsing for 18 weeks in small groups, the children have been working with practitioners for three hours per week to create an 'episodic' journey of Dickens' life.
Receiving master classes in various performance styles, including circus, puppetry and dance, organisers say the children have found a renewed confidence in their abilities.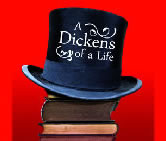 The project has also been incorporated into the curriculum of the seven participating local schools in Merton.

Mike Rappolt, chairman of the WCTT, comments: "The children's input has been vital throughout the process working closely with the director and script writer to produce the final production.
"A number of the children have further been involved in designing and making the 150 costumes, while others have been hard at work doing the marketing for the production. Allowing the children to have their say at every stage of the rehearsal process has enabled them to build their confidence and their self esteem dramatically and they cannot wait to get on stage and show what has been created. It also enhances their academic coursework. The production is set to be spectacular and a must watch for the local community."

The opening performance will take place on Wednesday 20th June 2012 at 19.30, with a matinee performance on Thursday 21st June at 14.30 and final evening show at 19.30.

Tickets cost £2 and are available on this link - click here, and from the New Wimbledon Theatre box office either on 0844 871 7646 or in person.
June 11, 2012