Next phase of town centre project coming soon
The next stage on the major project to improve access to Wimbledon town centre has now moved to the Alexandra Road and St George's Road junction.
So far the main works on the "Destination Wimbledon" project have involved the footways, but the focus will now move to the road junction.
When the latest part of the scheme is complete in September, an "Oxford Circus-style" diagonal pedestrian crossing will be in place (see below).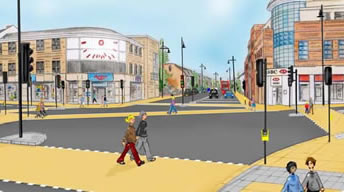 The work, which started on July 24 and is expected to run until September 2, will involve a temporary traffic management scheme and road closures.

The closures are set to take place during three evenings (11pm-5am) between August 22 and 26. Drivers are advised to avoid the area during the roadworks.
Work around the station forecourt and on the opposite bridge, which stopped during the tennis tournament, has now been substantially completed.
Project manager Ashley Heller said: "We realise that - including the gas works - that Wimbledon has had significant construction activity over the past two years; we believe that when the works are complete the town centre will be a better environment for all people using it".
July 29, 2011