Another Baywatch star comes to SW19
David Hasselhoff has been revealed as the star of this year's pantomime, Peter Pan, at the New Wimbledon Theatre.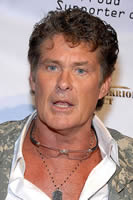 Hasselhoff (left), best known for the iconic roles of Michael Knight in TV's Knight Rider and Mitch Buchanan in Baywatch, will be playing the role of Captain Hook.
He will appear alongside star of Pineapple Studios Louie Spence who plays the cabin boy, Roger, in the theatre's biggest pantomime cast to date.
Only last year, another famous Baywatch star - Pamela Anderson - attracted national headlines when she appeared in the theatre's production of Aladdin.
Hasselhoff, who was due to appear in Peter Pan at the theatre in 2006, but cancelled the appearance because of a clash with TV commitments said: "Peter Pan is a show that has always been close to my heart, as my first theatre role was playing Lost Boy Nibs when I was a child. I am so delighted to be asked to join this British tradition.
"I know all about Pantomime as some of my good friends have already appeared in previous productions. They've told me how much fun it is. Get ready London for Hoff The Hook!"
Kevin Wood, Chief Executive for First Family Entertainment said: "I can't tell you how thrilled we are to be working with David. This is without doubt the most exciting piece of panto casting in history, and is so fitting as the New Wimbledon Theatre is celebrating its 100th birthday on Boxing Day. Peter Pan is going to be the hottest ticket in London this Christmas".
Peter Pan is a traditional family pantomime and will feature all the ingredients that make pantomime special - stunning sets and costumes, big song and dance numbers, a laugh-a-minute script and bags of audience participation.
The performance opens on Friday December 10 and runs until Sunday January 16. Due to prior commitments, David Hasselhoff will not be appearing at the following performances: Saturday December 18 2pm & 7pm, Sunday December 191.30pm and Friday December 31 to Saturday January 8 (inclusive).
October 26, 2010