David Cairns MP was aged just 44
Former Merton councillor David Cairns, Labour MP for Inverclyde, has died at the age of 44.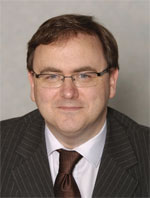 Mr Cairns (left), a former Minister of State for Scotland, died of acute pancreatitis at the Royal Free Hospital in Hampstead, where he had been admitted as an emergency patient in March.
He was a Merton councillor for the Longthornton ward, near Mitcham, and was a research assistant to Mitcham and Morden MP Siobhain McDonagh.
A former Catholic priest, he only became an MP in 2001 after Ms McDonagh introduced a bill overturning a law which banned Catholic priests being elected to Parliament.
A Labour spokesperson said: "David had been suffering from acute pancreatitis after he was admitted as an emergency patient eight weeks ago. Our thoughts are with his partner Dermot, his father John, his brother Billy and all his many friends and family. David's untimely death is a huge loss to parliament and politics in this country."

Ed Miliband, Leader of the Labour Party, said: "David will be missed beyond measure as a former minister, as an MP, as a friend and a colleague by many people and my heart especially goes out to his partner Dermot and his family in Scotland.
"As a former Catholic priest he brought a sensitive understanding of others and a ready wit to politics and he never shied away from saying what he believed to be true. The Labour Party will miss him profoundly. He was a good man."
May 11, 2011