Register now for 2015 Prudential RideLondon cycle festival
The Prudential RideLondon cycle festival, which saw more than 20,000 amateur cyclists zoom through Wimbledon in summer raised more than £10 million for charity.
It set a new UK fundraising record after the 20,709 finishers raised £3 million more than the sum raised at the inaugural event in 2013 when 16,000 riders raised more than £7 million to set a new UK record for a one day cycling event.
Despite the wind and heavy rain during the August event, which meant that the route was shortened for safety reasons to 86 miles, the average sum raised for charity by a fundraising rider was again over £900.
The Mayor of London, Boris Johnson, said: "Prudential RideLondon is more than just a fantastic celebration of cycling; it is also an event that raises millions for charity. I applaud the effort of this year's riders, who overcame such difficult conditions, and their generous sponsors, in raising the bar for next year's ride by generating a record-breaking sum of money for worthy causes."
"To raise £10 million for charity in our second year is a phenomenal achievement," said Event Director Hugh Brasher. "We are extremely proud of the commitment of our riders, who cycled through some of the most challenging conditions imaginable, and the generosity of their supporters and we plan to help raise even more for charity in future years."
Children with Cancer UK was one of the many charities that raised a six-figure sum and has already started work planning its fundraising for next year's Prudential RideLondon-Surrey 100.
"This year 325 cyclists joined our Children with Cancer UK cycling team for the Prudential Ride London-Surrey 100," said Ben Twyman, Head of Events at Children with Cancer UK. "We are thrilled that more than £300,000 has been raised to help in our fight against childhood cancer. This is a fantastic event and we look forward to raising even more in 2015."
The ballot for places in the Prudential RideLondon-Surrey 100 - which takes place on August 2 - closes at 5pm on Tuesday (January 6). Sign up at www.PrudentialRideLondon.co.uk.
Below are some pictures of the charity race and the professional event as the cyclists went through Wimbledon town centre and up to Wimbledon Village on August 10.
Eventual winner, Adam Blyth, is in the lead up Wimbledon Hill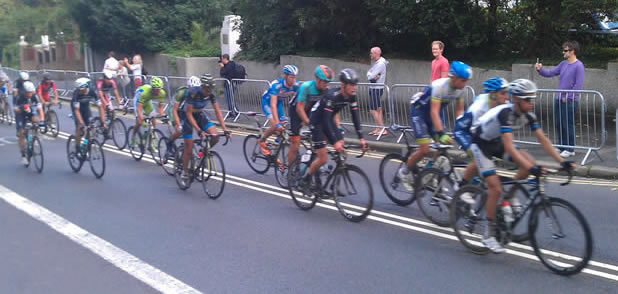 The chasing pack power up Wimbledon Hill Road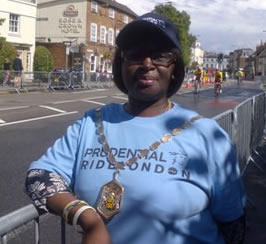 Mayor of Merton Councillor Agatha Akyigyina (above right) enjoys the day in Wimbledon Village, along with hundreds of others in and around SW19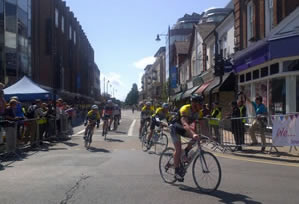 January 2, 2015