Review: Jason Manford is "flawless and engaging" as sleuth detective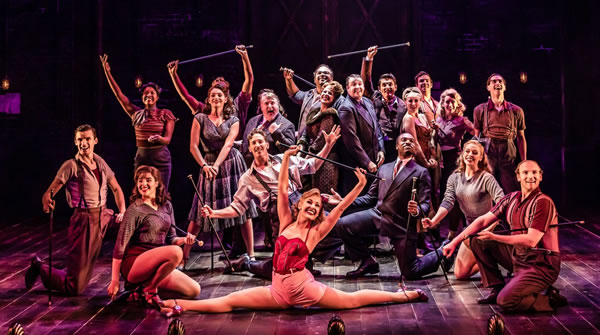 On a cold and windy January evening it gave me great pleasure to escape to the shelter of New Wimbledon Theatre this week for the first night of 'Curtains' and enjoy an equally vibrant, but colourful and energetic bounty of music, song, dance and comedy.
'Curtains' is a classic whodunnit musical comedy based on Peter Stone's original book and concept, with lyrics and music by Fred Ebb and John Kander (creators of both Cabaret and Chicago). Directed by Paul Foster the plot is based around sleuth Frank Cioffi, played by Jason Manford, with co-stars Carly Stenson (playing Georgia Henricks) and Ore Oduba (playing Aaron Fox).
The first night's show was late in starting. I wasn't sure if that was part of the plot of whether there was a first night hitch! The audience sat looking at a beautiful red curtain framed with bronze which itself played quite a key part in the drama, reflecting the show's name and its developing plot.
From the moment the curtain rose we were treated to a vibrancy of energetic dancing, beautiful costumes, changing stage sets, diverse lighting effects which well enhanced the atmosphere surrounding the plot, and music from a first-class band.
Cheers rose from the audience with the arrival of Jason Manford (centre left) on stage, playing sleuth detective Frank Cioffi. He gave a flawless and totally engaging performance, as did Carley Stenson, who played Georgia Hendricks and Ore Oduba, who played Aaron Fox. All three sang absolutely beautifully. Rebecca Lock, (playing Carmen Bernstein) also stood out with a strong performance. That said; to me the entire cast were worthy of great praise for the first-class entertainment they provided. The cast of over 20 felt quite large for New Wimbledon Theatre and created a great sense of action. Around 20 musical numbers were flawlessly delivered at a fast pace, leaving the audience no time to get bored. We were clearly engaged throughout judging by the amount of laughter given in response to the many very witty lines in the excellent script. There never really seemed to be a dull moment.
What stood out for me was how well the entire cast worked together and seemed to be really enjoying themselves as a team. It is also very interesting to witness the versatility of actors/entertainers, who may be best known for certain prominent TV work, but who can turn their hand to absolutely anything on stage.
All in all a job well done and I wouldn't mind going again quite soon!
Curtains runs at New Wimbledon Theatre until Saturday (January 18)
By Carol Whittaker
January 15, 2020