Bina joins charity committed to helping chronically ill find work
Wimbledon sales manager Bina Mistry is bucking the trend showing British people aged 26-35 are least likely to volunteer than any other age group by donating her time to help the UK's long-term sick access meaningful work.

Bina Mistry, aged 33, who works as a Global Salesforce Manager at StatPro, based in Mansel Road, Wimbledon, has taken up a voluntary area manager position, after being inspired by charity ASTRiiD (Available Skills for Training, Refreshing, Improvement, Innovation and Development) at a London event earlier this year.
Bina attended the Salesforce World Tour, where Chairman Steve Shutts represented his brother, David Shutts OBE to talk about the charity David founded in July 2017.
David was diagnosed with stage four kidney cancer ten days after his 50th birthday, and despite a distinguished career as a Royal Navy Commander, a champion of business and a passionate leader, he was left feeling 'on the employment scrapheap'.
David died in May 2018, less than a year after launching a professional online matchmaking service called ASTRiiD, which provides employment opportunities to those with long-term, often incurable health problems, by connecting them with businesses that have roles to fill.
Inspired to learn more about the charity, Bina approached the ASTRiiD team to see how she might be able to support and is now part of an army of volunteers who have committed to helping the organisation grow, through new member and company sign-ups.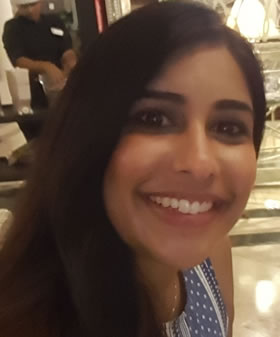 Bina will be encouraging companies in and around the City of London and its surrounding boroughs, that have signed up as business partners to post any available job roles they may have.
She will also be liaising with new business decision makers about how ASTRiiD works, encouraging them to sign up as a partner.
She said: "I have boundless enthusiasm for ASTRiiD and what the charity is trying to achieve, so I'm looking forward to connecting with people and helping develop its image at the same time.
"David Shutts was a true inspiration. He could easily have let the negative impact of his prognosis beat him but instead he decided to do as much as possible with the remainder of his life, in order to help others. For me, that signalled a need to be proactive too. I want to do more with the time I have as a healthy individual and give back what I can – I can't wait to get started!"
Steve Shutts, Chairman at ASTRiiD said: "I'm delighted that Bina has joined the ASTRiiD family as area manager for London. There are so many benefits for businesses who sign up as a partner – we can provide access to a more diverse workforce, invaluable voluntary coaching and mentoring from highly experienced individuals, increased productivity, salary savings from flexible working, the list goes on!
"I've no doubt that Bina's enthusiasm and 'on the ground' knowledge of London will help drive our growth. Bina recognises that anyone of any age can find themselves part of 'the invisible talent pool' and it's wonderful that she's helping affect change for the better."
For further information on ASTRiiD, to sign up as a business partner or become a member, visit https://astriid.force.com/s/.
August 16, 2018