Traffic disruption and diversions may occur due to lane and road closures
Below is a list of forthcoming roadworks in the SW19 area which are likely to cause some local delays, including the 12-week road closure at a key South Wimbledon junction.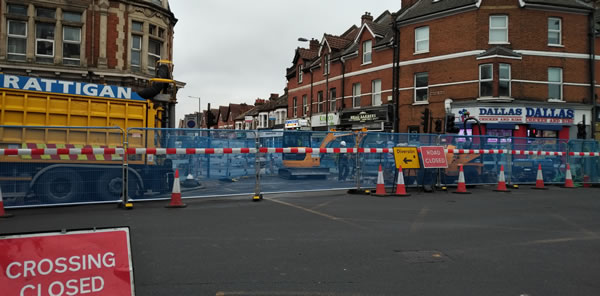 A238 Kingston Road, Wimbledon (junction pictured above)
20 January - 12 April
Responsibility for these works
Information for Road Users
| | |
| --- | --- |
| Location: | A238 Kingston Road, Wimbledon, London, Merton |
| Traffic lights, etc: | Traffic control (multi-way signals) |
Gas network upgrade
We're upgrading our network to ensure local homes and businesses continue to enjoy a safe and reliable gas supply for years to come.
Our project will start on Monday 13 January and last approximately 12 weeks. It will involve road and lane closures around our site to keep everyone safe.
A238 Pepys Road, Raynes Park, London, Merton
20 January — 17 February
Delays likely - Lane closure
Works location: Unknown
Works description: 12 mtrs of 180mm road crossing (new lay) 37mtrs of 75mm in 8". Cut off 10" main from 15mm. Abandon 20mtrs of 10/8" mains. Complete all services. Complete all reinstatement.
Responsibility for works: SGN
Current status: Planned work about to start
Works reference: XW053W116378314-05055
B279 Grand Drive, Raynes Park, London, Merton
19 January — 26 January
Delays likely - Traffic control (Stop/Go boards)
Works location: Unknown
Works description: Replace 1 jointbox frame and cover(s) (725mm x 225mm) in footway
Responsibility for works: Openreach
Current status: Planned work about to start
B279 Grand Drive, Raynes Park, London, Merton
26 January — 02 February
Delays likely - Traffic control (Stop/Go boards)
Works location: Unknown
Works description: Replace 1 jointbox frame and cover(s) (725mm x 225mm) in Footway
Responsibility for works: Openreach
Current status: Planned work about to start
Works reference: BC006TI001LC500289315202
January 24, 2020