Road Works Ahead in the Wimbledon Area
---
Traffic disruption and diversions may occur
Below is a list of forthcoming roadworks in the SW19 area which are likely to cause some local delays:
Ashcombe Road, Wimbledon. The bridge is closed until the end of September while it is being demolished and re-built.
B282 West Barnes Lane, London, Merton
25 September — 30 September
Delays likely Traffic control (two-way signals)
Works location: Bridge (Rail Over Road) Named West Barnes Lane Bml1 2/33...
Works description: Sturctural Survey Working From 22.00-06.00...
Responsibility for works: Network Rail Infrastructure Ltd
Current status: Advanced planning
A219 Hartfield Road, London, Merton
21 September — 26 September
Delays likely Traffic control (give & take)
Works location: A219
Works description: New Water Connection 1x4 Port Mdpe Mtrd Manifold And 3x32mm Mdpe Mtrd Supplies Off Of 3" Ci Main Excavating 1m In Footway. Our Intention Isto Complete The Permanent Reinstatement In The Same Phase
Responsibility for works: Thames Water
Current status: Planned work about to start
A219 The Broadway, London, Merton
21 September — 25 September
Delays likely Lane closure
Works location: A219
Works description: Drainage Repairs To Be Carried Out In The Footway And Carriageway
Responsibility for works: Merton London Borough Council
Current status: Planned work about to start
A219 The Broadway, London, Merton
22 September — 26 September
Delays likely Traffic control (give & take)
Works location: A219
Works description: Disconnect Power From Digital Unit And Remove Unit
Responsibility for works: Merton London Borough Council
Current status: Planned work about to start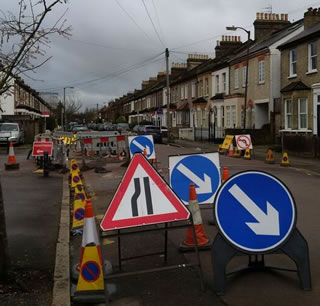 September 24, 2017