Wimbledon Guild raffling one of the original ceramic flowers
If you missed out on acquiring one of the ceramic poppies that were part of last year's commemoration of the centenary of the beginning of the First World War you may have another chance to own one.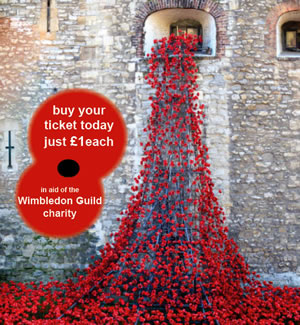 Wimbledon Guild are raffling one of these treasured items from the Blood Swept Lands and Seas of Red installation at the Tower of London. 888,246 ceramic poppies progressively filled the Tower's famous moat between July to November 2014.
The poppies encircled the iconic landmark, creating a spectacular display visible from all around the Tower. The scale of the installation was intended to reflect the magnitude of such an important centenary and create a powerful visual commemoration.
All of the poppies that made up the installation were sold, raising millions of pounds which were shared equally amongst six service charities.
The poppy is an original ceramic flower created by Paul Cummins and Tom Piper with its authenticity certificate. It has been kindly donated by Co-Op Funeral, Tooting branch to help raise funds for the Wimbledon Guild.
Get your raffle tickets at:
Wimbledon Guild reception , by calling 020 8946 0735 or emailing events@wimbledonguild.co.uk
Centre Court Shopping Centre on 12th November, 9am - 8pm
Christmas in the Village Shopping Day (outside Dog & Fox) on 5th December
Wimbledon Guild Carol Service on 10th December, St. Marks Church 6:30 - 8pm
Tickets cost £1 each and the draw takes place on 16 December at 9.30am.

November 9, 2015