Wimbledon Bridal Designer In Final Push
---
7 days for Emma Hunt from deadline of her Kickstart campaign to launch new collection
Designed to bring artisan design to women looking to add a little luxury to the every day, Emma has been raising funds to launch the Little Black Dress Collection through the crowd funding platform, Kickstarter.

There are now just six days until the campaign ends, with the deadline for pledges and support at 5pm on Thursday 2nd October.



At going to press, Emma is currently at 90% of her funding target, with just £3,000 to be raised in order to reach her funding target of £30,000. Upon reaching this target, Emma will be able to fully launch the collection, initially building an e-commerce platform for the company website through which to sell the dresses on a made-to-order basis.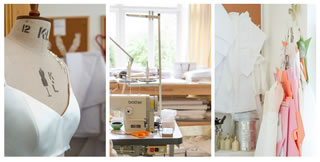 The team will also take the collection to the buyers of luxury department stores and boutiques with an aim to enter the luxury retail market. Expertly crafted, the dresses are truly special pieces, designed to become trusted favourites that you can return to again and again. Using only the finest fabrics, with pure silk inside and out, and some wonderful British lace, the dresses are all proudly made by hand in Emma's Wimbledon studio (pictured above).

By supporting Emma's project, backers are supporting British design, while also getting the opportunity to pre-order pieces from the new collection for exclusive launch prices, up to a third of their eventual retail price. A wonderful opportunity to get a couture-standard frock for less and, what's more, Emma will have the handcrafted dresses ready in time for festive parties upon the campaign being successfully funded.

Emma commented: "I'm asking for support in this campaign so Emma Hunt London can continue to contribute to the best of British design, and provide exquisite couture to women across the UK and beyond, who appreciate craftsmanship and quality. Women who will be proud to wear handmade British design."

You can pledge your support for the collection here and help to enable a London designer to continue producing quality, British-made couture.
September 25, 2014