Around 35,000 people attended Wimbledon Guild Village Fair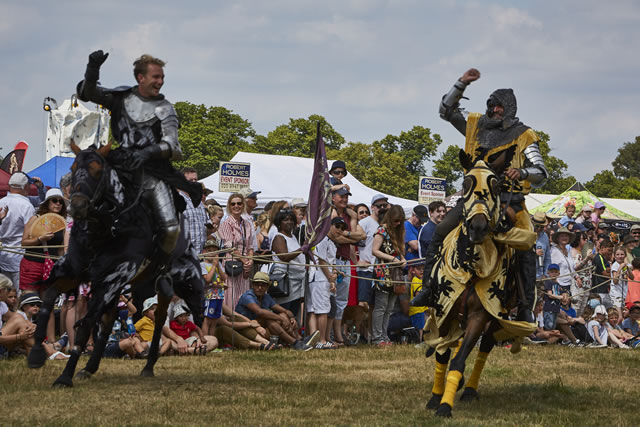 Medieval knights on horseback clashed swords in a heart-stopping jousting tournament, thrilling the crowds visiting Wimbledon Guild Village Fair on Wimbledon Common on Saturday (17 June).
Around 35,000 people attended the social welfare charity's annual summer event which was backed by the Wimbledon Foundation, the charitable arm of the All England Lawn Tennis Club (AELTC).
Merton's new Mayor, Councillor Marsie Skeete, declared the fair open as the Knights of Middle England threw down the gauntlet to kick off the action-packed family day out.
Councillor Skeete praised Wimbledon Guild's work helping people of all ages in the local community lead better lives through its range of services such as befriending, low-cost counselling, and activities programme for older people.
Guests included Helen Parker, Wimbledon Foundation and community manager. Wimbledon Foundation pledged to match fund on-the-day bucket donations that were collected by Wimbledon Guild's army of volunteers.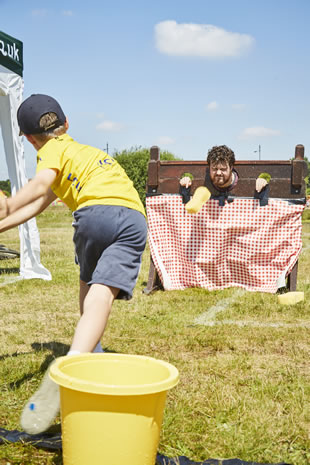 It may have been cooler in the stocks
Wimbledon Guild chief executive Wendy Pridmore said: "Our fair gets bigger and better every year and we're delighted so many people of all ages turned out to enjoy it and helped make it such a memorable family day out.
"We'd like to thank everyone who came along and donated to our volunteers and are grateful to the Wimbledon Foundation for matching those donations, as the money raised will be a valuable contribution to funding our services and helping us improve the lives of people right across Merton.
"We are also indebted to the many local businesses and organisations that continue to sponsor and support the fair. Many of them gave up their weekend to help fundraise for us and the work they have put in leading up the event is truly appreciated.
"It takes 100 volunteers to help us put on the fair and they and our staff worked tirelessly from the crack of dawn to make it happen, so a huge thank you to all."
As well as jousting knights battling it out in the main arena on the Common, visitors were treated to falconry displays, with birds of prey from the Hawking Centre, aerial hoop and trapeze performances by the Flying Fantastic Young Flyers, The Village School of Dance performances, Rock Choir and music and entertainment in the Sips and Sounds marquee.
All England Club Head Coach Dan Bloxham gave top tips to young tennis hopefuls and local football club AFC Wimbledon also ran football skills sessions.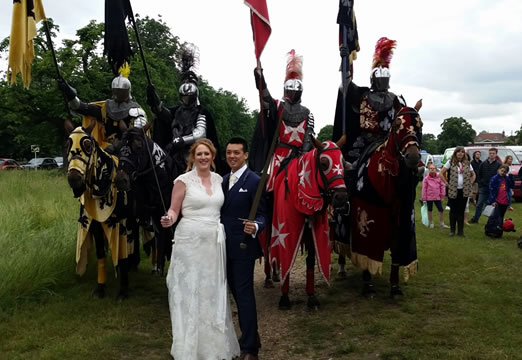 Among the visitors were Hannah and Chi Man, from Hackbridge, Sutton, who visited the fair as part of their wedding day celebrations last year, after getting married nearby.
Hannah said: "Chi had arranged to take me away for a surprise to celebrate our first wedding anniversary but we couldn't miss coming back to the Wimbledon Guild Village Fair! Luckily our destination was close enough that we were able to come along and relive those lovely memories."
"Through my own voluntary work I know how important volunteers are in helping charities put on events such as this and the huge amount of effort that is put in by everyone to help the local community."
Wimbledon Guild has been part of the Merton community for more than 100 years, and many of the challenges society faced then are still relevant today.
In an ever-changing world, Wimbledon Guild delivers an invaluable service to the community through its wide range of services which support people throughout the borough to lead a better life by tackling poverty, supporting ageing and encouraging mental wellbeing.
Last year Wimbledon Guild's low-cost counselling service provided more than 3,000 individual sessions and 288 hours of group therapy and the Ageing Well programme helped 981 older people stay healthy, active and independent.
And more than 300 volunteers gave up 20,304 hours of their time and skill to help others through the Wimbledon Guild and many of them helped organise today's fantastic community event.
Many more people were assisted by the charity's befrienders, bereavement service and small grants programme.
June 19, 2017