Khaled Argoub dragged his victim into Wandle Park and assaulted her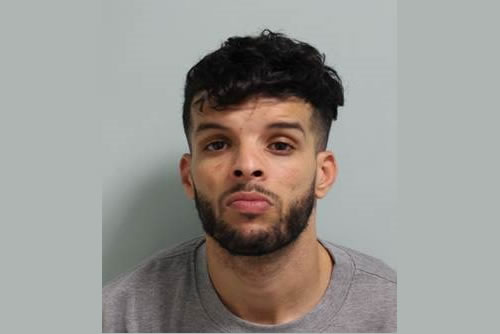 Khaled Argoub of Garratt Terrace, SW17
A 21 year old man from Tooting has been sentenced to 22 years in jail for an attempted rape that took place in Wandle Park.
Khaled Argoub, of Garratt Terrace, SW17, was sentenced on Thursday, 17 September at Kingston Crown Court after being found guilty of two counts of attempted rape, attempting to choke with intent, assault by penetration and three counts of sexual assault.
He was given an extended sentence of 22 years for one count of attempted rape with sentences for other offences to run concurrently. Fourteen of those he will spend in custody. He will be considered for parole after serving two thirds of the 14 years.
During the trial, which started on Monday, 17 February, the court heard that the victim, aged in her twenties, was heading home after a night out with friends. She boarded The Night Tube where Argoub followed her. She was seen leaving Colliers Wood station at approximately 3am on 11 August 2019.
She walked along Colliers Wood High Street before entering a residential street. When the victim was most of the way down the street she noticed Argoub standing in the middle of the road behind her. She described him as smirking at her.
Suddenly, the suspect ran towards the victim, grabbed hold of her and dragged her into Wandle Park.
He grabbed her from behind with his arm around her neck, chocking her before attempting to rape her. He also sexually assaulted her.
Biting his hand, which was covering her mouth, the victim was able to escape and ran to a nearby block of flats until officers arrived a short time after.
The victim was taken to hospital where she had significant cuts and scratches to her body and reddening to her neck. Her voice was hoarse from the strangulation and she struggled to speak.
A search was conducted with helicopter and dog support but there was no trace of the attacker. Officers found a baseball cap with a 'B' logo on the front at the scene.
Officers from the Met's South West Safeguarding Team began an investigation. The victim told officers that she was on her way home and had exited at Colliers Wood Underground station.
They began their CCTV trawl starting at the Underground station and found a man fitting Argoub's description following and filming the victim as she got off the train. He was wearing the baseball cap found at the scene of the crime.
Twelve minutes later he is seen re-entering the station and is no longer wearing a baseball cap. He heads northbound and exits at Tooting Broadway tube station and enters a property on Garratt Terrace, SW17, shortly after 04:00hrs where he remained.
Back at the hospital, a nail clipping was taken from the victim. It was sent for forensic analysis and contained a partial DNA profile for Argoub who was arrested on 24 August 2019 and charged later that day.
Detective Constable Faye Castleman, the officer in charge of the investigation, said: "On behalf of the victim and her family, I am pleased that justice has been served and I hope that this sentence can bring some closure for them. The victim was immensely brave throughout the investigation and I highly commend her courage.
"This was an extensive investigation with numerous officers working together to locate the offender and highlights good proactive police work. This case also recognises the importance of forensics in helping to identify offenders.
"We take these cases very seriously and I would encourage anyone who has been through a similar experience to come forward and report it to us in confidence.."
Anyone who has been a victim of a sexual offence is urged to contact police on 101. Alternatively, contact Crimestoppers anonymously on 0800 555 111.

September 18, 2020