Commuted from Manchester to steal goods worth nearly half a million
The burglar who plagued the Wimbledon area for nearly ten years has been jailed for 14 years this Friday (21 June).
43-year-old Astrit Kapaj of Woodfield Road, Broadheath, Altrincham, an Albanian national who had been living in the UK since 1996, was arrested earlier this year following a long-running and meticulous investigation by the Met.
He had lived in the Wimbledon area in the nineties but later moved north and commuted down from Manchester to commit a string of burglaries targeting high value properties.
He was arrested by officers as part of covert operational activity on Friday, 22 February this year. He was found to be carrying a number of tools and a torch. He was also wearing a snood. During his police interview, he initially denied having any involvement in the burglaries but he later pleaded guilty to multiple offences at Kingston Crown Court on Wednesday, 24 April. He then admitted a further two offences and was sentenced today at the same court. The total value of the property stolen during the burglaries he admitted, was £497,300.
Detective Chief Inspector Dan O'Sullivan led the investigation between January 2014 and September 2016, while Detective Inspector Andy Durham subsequently took the role of senior investigating officer. They paid tribute to the support that the community in Wimbledon gave to officers throughout the investigation, including the Parkside Residents Association.
They have also praised the commitment and innovation of the hundreds of officers and staff from across various teams in the Met, which enabled Kapaj's arrest.
The teams involved were the local Basic Command Unit, Specialist Crime (previously London Crime Squad), Technical Support Unit and our covert rural surveillance team.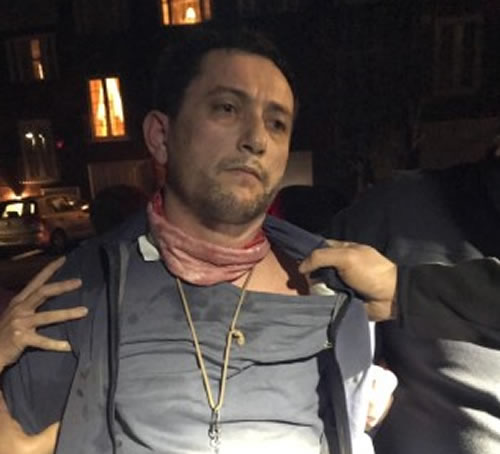 Astrit Kapaj - The Wimbledon Prowler
Laurie Porter, a local resident who was instrumental in liaising with officers and the community throughout the enquiries, said, "We are so grateful and thankful to the Met for all their hard work. From the specialist crime squad to the detectives working on the case to the local Pcs in Wimbledon Village. They've been brilliant.
"There were times I lost hope that they would ever catch this man but I never lost faith that the Met was do everything it could to apprehend him."
DI Durham said, "This man terrorised the community of Wimbledon for well over ten years. He moved away from Wimbledon more than 15 years ago, to Greater Manchester, yet despite the almost 500 mile round trip, he returned to Wimbledon repeatedly. He targeted the same area, and often the same houses, to steal for his own personal gain.
"Kapaj was controlled and well-organised as he carried out his sustained campaign of offending but what he didn't count on was how much he would reveal about himself. Additionally, while the 'prowler' was the focus of our investigation, during our enquiries we also caught a number of other burglars in the act.
"Kapaj refused to relent from targeting this community, yet the police have shown more than equal tenacity in bringing him to justice. With conventional policing responses and crime prevention approaches unsuccessful, we had to create innovative solutions.
"A partnership of local officers with specialist and technical units both inside and outside of the police, and most importantly working with the support of the local community, has now led to the arrest and conviction of the Wimbledon prowler, Astrit Kapaj."
The breadth of the policing operation was vast and the team say they faced a number of challenges. It was painstaking work, and included identifying eight key characteristics of the burglar's MO, classifying a 'circle of control' in which he consistently offended and sharing daily intelligence with the local neighbourhood policing team. During the investigation, officers also liaised with other forces to explore if the burglar had offended elsewhere, but no offences came to light.
Officers had a sophisticated forensic strategy and a significant break in the case arrived when a 'scene-to-scene' forensic identification was revealed. Through touch DNA testing, a profile from an offence in July 2015, was matched with an offence in December 2015.
The DNA was captured even though Kapaj never left behind a fingerprint and wore gloves during every burglary. Using this DNA was captured, officers then used familial searching techniques. This was the first time that familial DNA testing was used in the UK in a case other than a rape or a murder. Although ultimately DNA techniques did not lead to Kapaj's arrest, evidentially they later proved crucial to the prosecution case.
DCI O'Sullivan said, "It is with great satisfaction that today we have seen Kapaj sentenced for this series of offences. For years, a community was targeted and left feeling vulnerable as he crept through their houses unchecked, helping himself to items which in some circumstances, were among their most prized possessions."
Alexandra Boshell, from the CPS, said, "For over a decade Astrit Kapaj remained anonymous. He carried out burglaries in Wimbledon totalling nearly half a million pounds over more than 10 years. A number of Kapaj's victims had been at home at the time, leaving many feeling unsafe long after the burglaries.
"The prosecution case, including CCTV footage showing Kapaj habitually covering his lower face, meant he had little choice but to plead guilty. I hope this prosecution provides comfort to victims and shows the police and CPS work side by side to find and prosecute those who seek to invade and loot homes."

June 21, 2019