Appears at her house on two subsequent occasions
A woman from Wimbledon has been repeatedly harassed by a man who followed her home from a local supermarket.
After following the 42-year-old from the store on Durnsford Road on 26 October then same man, who may have a scar on the left side of his head, appeared at her home on two subsequent occasions.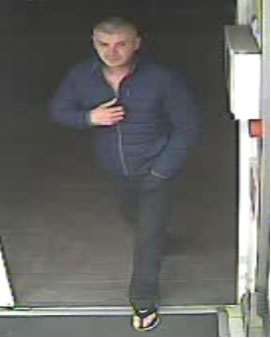 CCTV still of man police would like to speak to
Detectives from Merton have released a CCTV image taken at the supermarket of a man they would like to trace.
At 10:50pm on Monday, 26 October the woman was followed from the supermarket on Durnsford Road to her home in Wimbledon.
Two days later, at around the same time, the victim heard knocking on her front window and saw the same man staring at her through the window.
On the evening on Thursday, 5 November police were called to reports of the same man in her rear garden trying to gain access to her home.
The man is described as white man in his twenties, 6ft tall with a shaved head. He is believed to have a scar on the left side of his head. On the incident on the 26 October he was seen wearing a dark blue puffer jacket and dark trousers.
Anyone who recognises this man, or who has any information which could assist the investigation, is asked to contact Merton police on 101, quoting image 194308. Alternatively, contact Crimestoppers anonymously on 0800 555 111.
November 9, 2015