Powerful musical earns standing ovation at New Wimbledon Theatre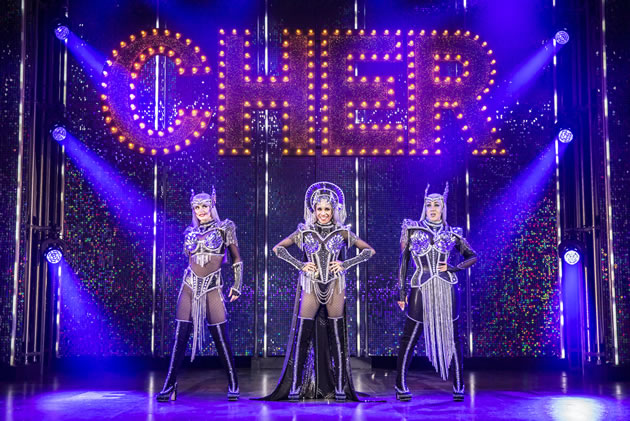 I'm quite used to emerging from New Wimbledon Theatre feeling like I've been royally entertained after an evening of sensational music and dancing.
But The Cher Show, which runs at our local theatre until Saturday, was also thought-provoking as it told the life story of the American singing and acting legend.
There were three Chers covering five decades of her sometimes troubled life and they were on stage together for much of the show, working simultanously to cover our heroine's highs and lows.
In a clever move by set designer Tom Rogers we knew what stage of Cher's life we were watching throughout the show, with a range of different props used to display the relevant year. It all started in 1955 when a young Cher ("Babe") visited the cinema to see Cinderella, and that year was shown in numbers on the back of the cinema seats.
Millie O'Connell, as Babe, was centre stage at this phase of the performance. Before we knew it, she'd gone from cycling her pushbike under the watchful eye of mother Georgia, to flirting in Hollywood with 28-year-old Sonny Bono (Lucas Rush) and then onto the path of fame.
There are around 30 songs in this show, and Sonny and Cher's 'I Got You Babe' sent tingles down the spine as the stage was being set for Sonny's controlling personality to emerge.
Lucas Rush's voice bore an uncanny resemblance to Sonny, and that was enhanced by the terrific costumes which moved from the iconic hippy jackets to glitzy suits made for the couple's TV shows.
Cher's own amazing costumes were the subject of more aggravation between the couple. By now we'd moved seamlessly to Danielle Steers, who gave a powerful performance of Cher ("Lady") in her 'middle years'.
As the costumes are a key element of this show, it was no surprise that there was an excellent 'cameo-like' performance by Jake Mitchell as Cher's famous fashion designer, Bob Mackie.
The show's director is self-confessed Cher fan, Arlene Phillips. The dances created for Bob Mackie were part of the show's highlights and they even provided a touch of humour.
Danielle Steers's portrayal of Cher also gave us every reason to smile, and she emerged as my favourite Cher on the night. That's not to say that the final Cher - Debbie Kurup as "Star" - disappointed in any way.
The initial ending of the first act came with a bit of a whimper, caused by a technical malfunction. But we did get to see Act One's finale before the scenery change for Act Two.
However, the show's main finale was much more spectacular and it was no surprise the audience were up on their feet to dance along to 'A Dream Is A Wish Your Heart Makes', with all three Chers and the rest of the cast.
Listings information:
93 The Broadway, Wimbledon, SW19 1QG, UK
2 hours 30 minutes incl. interval
Tue - Sat at 19:30
Wed, Thu and Sat at 14:30
Age guidance 12+
By Sue Choularton
February 2, 2023