New scheme set for introduction in Merton
A chargeable garden waste collection scheme is set to be introduced in Merton this summer, costing each subscriber £65 or £50 a year.
The plans have been announced following the withdrawal of the free collection service to save an annual £227,000 as part of council cutbacks.
The scheduled kerbside garden waste service will allow residents to have their garden waste automatically collected from their home and composted centrally.
For the duration of the subscription residents who sign up will chose either a 240-litre wheelie bin or 25 paper sacks per year, each with a 75-litre capacity.
The council hopes it will help those without transport or who may struggle to get their garden waste to the waste and recycling centre in Garth Road. It will cost £65 a year or a reduced rate of £50 for pensioners and those in receipt of income or disability support.
It is possible for neighbours to share the fortnightly service, as long as their waste gets into the bags or bins provided.
The final decision is still subject to a council scrutiny call-in, and local Conservatives say the new scheme is "not fit for purpose".

Councillor Henry Nelless (left), the Conservatives' Environment spokesman, said: "Two wrongs do not make a right. Labour, with the support of the Merton Park Independent councillors, were wrong to remove the old service before a new paid for policy had been put in place and they are wrong again to be introducing a new service which is not fit for purpose.
"They have not asked residents, especially those representing vulnerable people, about the sort of service they would like to see and instead have just panicked. Forcing residents to take a wheelie bin, or wholly unsuitable paper bags, to hold green waste at an inflated price is ridiculous."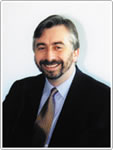 But Councillor Andrew Judge (left), Merton Council cabinet member for environmental sustainability and regeneration, said: "Ensuring residents have options on disposing their garden waste is crucial and introducing this service for a small fee allows Merton to do just this. We think this is a fair approach which we hope will be affordable.
"Although the free service had to be stopped as part of the council's overall savings for this year, we have listened to our residents and are happy to be able to bring them this new option. By charging residents the equivalent of just £2.71 per collection, the service is affordable but not a financial burden to the council."
What do you think about the plans to charge? Why not comment on our forum?
Future plans for all waste collection in the borough will be progressed next week when the council's Sustainable Communities Overview and Scrutiny Panel reviews the findings of a scrutiny task group. The report is due to be considered on Thursday (May 26) when the Panel will decide whether to accept and send these findings forward to the

Cabinet meeting on June 20, or request the task group to undertake further work and report back.
May 20, 2011