Free workshops will reveal its historic significance
The fascinating history of the Merton Priory Chapter House will be covered during free workshops being offered during July and August.
John Hawks, Vice-Chair of Merton Priory Trust, will lead the workshops on the Chapter House, which was one of the largest and most influential Augustinian monasteries in the south of England.
It is situated on the banks of the River Wandle in South Wimbledon, under Merantun Way. Although most of its buildings have been demolished, the excavated ruins of the Priory's Chapter House remain preserved.
It spans a rich medieval history, from the Coronation of Henry VI in 1437 to the 18th century, where the Abbey became a major centre for textile printing and dyeing in England. Most notably, Arthur Liberty: Liberty and Co and William Morris: Morris and Co were established on and nearby the site.
Groundwork London is working with the Living Wandle Landscape Partnership Scheme, supported by the National Lottery through the Heritage Lottery Fund, to deliver the illustrated workshops.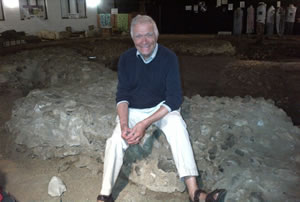 Mr Hawks (pictured right in the Chapter House), who has been involved with the Chapter House for more than 20 years, will cover the significance of the Chapter House, focussing on key dates and people.
During one of the earlier workshops, the fascinating facts revealed about the orginal Merton Priory included:
More than 800 bodies were buried in its graveyard.
The Magna Carta was probably conceived in Merton Priory.
Henry VI had a crowning ceremony in the Priory.
The Priory was slightly larger than Bristol Cathedral, with the nave extending from the south entrance of M&S to the Sainsbury's petrol station.
The original high altar is underneath the entrance to M&S (see below), and Mr Hawks hopes it will eventually be marked out.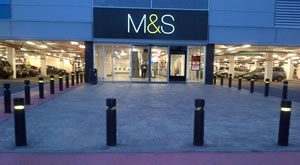 Participants also had the opportunity to learn about an exciting new project, that Groundwork London are delivering, to create a film on the forthcoming improvement works that are due to take place to enhance the visitor experience and increase access to its historic remains.

Phase 1 of the improvement works will start in October and involve replacing the South Wall with glass, so the remains can be visible from the outside. Facilities including water, toilets and a robust electricity supply will also be installed.
Workshop Details:
Each identical workshop will be approximately 90 minutes. The confirmed dates are:
Wednesday July 29 at 11am
Wednesday August 5 at 7pm.
Location: Merton Priory Chapter House, Watermill Way, SW19 2RD.
Chapter House is situated under Merantun Way (A24) between Merton Abbey Mills market and Sainsburys / M&S hypermarket. Access is via the pedestrian underpass leading from Pizza Hut and Sainsburys car parks.
Workshops are free, however to reserve your place, please contact Nicky Judd at Groundwork London on 07913604360 / 020 7922 1230 or email: nicola.judd@groundwork.org.uk.
July 23, 2015