Chakra In Kingston Matches Indian Flavours With Contemporary Flair
---
Riverside restaurant ticks all the boxes for a modern dining experience
You'll cast away your expectations about Indian cuisine with a visit to Chakra or a delivery order to enjoy at home.

There are two restaurants to pick from - Kensington or Kingston-upon-Thames - as well as a delivery-only kitchen in Wimbledon.

All offer "traditional Indian flavours with contemporary flair to bring the bright taste of something different".

Three of us in need of a meal we could linger over while we had a 'catch-up' decided to see if Chakra Kingston, right on the Riverside, would meet its promised offering.

The restaurant's modern interior (below) immediately seemed a world away from the "old-style" Indian restaurants - all flock wallpaper and orange themes. It certainly made you feel like you were set for a more "contemporary" dining experience.




The attentive staff let us sit in a cosy corner, where we had a view of the Riverside Walk and felt we had plenty of space to breathe as we pondered over the menu. It's certainly extensive enough to give you something to mull over - but not too long to suspect the chef can't possibly be any good at all of them! One minor gripe is that it would be good to mark which dishes are gluten-free, which seems to be standard on many restaurant menus these days.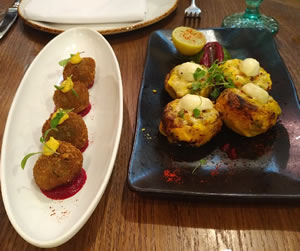 We opted to share two starters and plumped for the Avocado Ke Gole (£6.50), which were described as avocado dumplings served with pickled beetroot puree and mustard kewpie. Our second starter was Bharwa Mushooms (£8.50) - chargrilled cheesy mushrooms stuffed with fruit and nuts. Both were simply delicious as well as well presented (see left). The mushrooms were a tad spicey and we voted them our favourite. But we all thought the taste and consistency of the beetroot puree accompanying the dumplings was just wonderful.
So we had a good start before moving on to our main courses. I'm not one for strong curries and double-checked that the Fish Moilee (£13.95) wouldn't be too spicy for me. It sounded too tasty for me to ignore though - sea bream simmered with shallots, curry leaf, mustard and saffron.

One of my friends went for Sunhari King Prawn (£14.95), which was described as char-grilled carom seed and spiced yoghurt-marinated king prawns. The other chose a more traditional-sounding dish of Haryali Chicken Tikka (£10.95), which had a contemporary twist involving the chicken being marinated in green herb and pistachio, served with cherry tomato chutney.

To accompany our dishes, we had a pulao rice (£5) and vegetable biryani (£9.95). When it all arrived, it looked an absolute picture and our tastebuds were tantalised before we'd even started! The picture below shows my plate just before I started to dig in.


I have to pronounce my meal was simply delicious - striking an excellent blend of creaminess,
spice and flavour with a generous portion of perfectly-done sea bream. My friends said their dishes more than matched their expectations, and the meal sizes left us little room for anything more. But in the interests of my review, we did give Chakra's dessert menu a browse.
There were some tempting options on offer, and we decided to share just a single Mango Khulfi (£4.95) - Alphonso mango-flavoured Indian ice cream. This came on a stick (see right), but we were all able to share it with tea-spoons, and found its smooth consistency a perfect way to round off our meal.

Bottles of wine start from £25, and we'd gone for one of those (a 2015 Oltro Passo Falanghina from Italy) to have alongside our food. It was a pleasant wine, and a good accompaniment to our meal. We all liked the green, chunky, wine glasses. We completed our evening with a macchiato, Americano and a mint tea, which each cost £3.75.

As we left, and wandered into Kingston town centre, we vowed to return in the New Year. But with delivery options on our doorsteps in SW19 - perhaps it'll be a delivery next time?

By Sue Choularton

November 20, 2018