Councillor calls for urgent action after at least four months of problems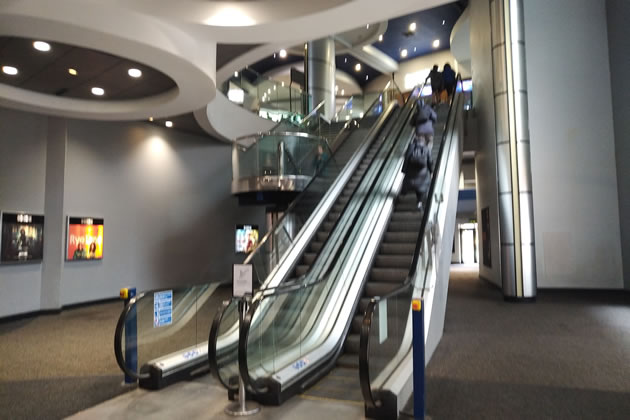 People walking up the ODEON's Wimbledon escalator yesterday
Wimbledon's ODEON cinema has not been accessible to people with motability problems for at least four months because of a broken escalator and an unreliable lift.
Merton Lib Dem Councillor Anthony Fairclough wrote to the cinema chain earlier this month to ask the company to treat fixing the problem as a priority.
But the escalator and lift in the building, which is situated in the town centre Piazza, were still out of action today (March 12).
It is understood that the lift, which also serves the Nuffield Health gym, has worked on occasion. The lift has been known to be working when people have arrived at the cinema, but not for their departure.
Councillor Fairclough said in his letter to the ODEON group on March 2: "Since November 2022 there has been no working lift and no working escalator at Odeon Wimbleodon, rendering it completely inaccessible to anyone with motibility problems or those with children in prams.
"This also means Nuffield Health Wimbledon, which shares the same building, is inaccessible.
"Customers queries have been somewhat brushed off, there is seemingly no plan nor a timescale for repairs or other work. It is unacceptable that a company the size of Odeon has not sorted this as a priority."
He asked for an "urgent response" on why there has been such a long delay and for a timescale for the necessary repairs.
Councillor Fairclough said today that he was anticipating a response from ODEON Cinemas Group at some stage next week.
An ODEON spokesperson told www.wimbledonsw19.com: "We are aware of accessibility issues at ODEON Wimbledon and have taken proactive steps for the necessary refurbishment work to take place on the lifts and escalators. We would like to apologise to any guests for the inconvenience caused".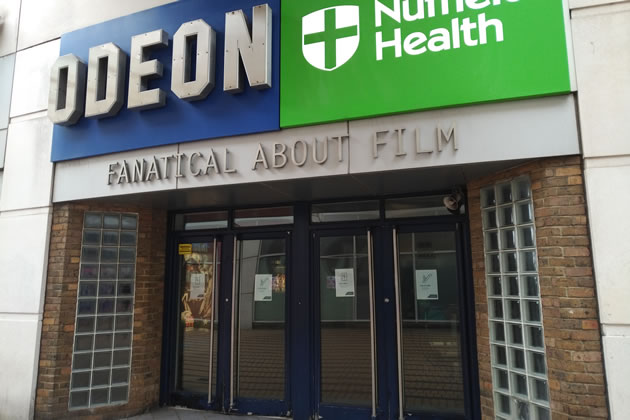 The ODEON entrance with warning signs about the broken lift and escalator
March 12, 2023