Mayor makes whistlestop tour of local YMCA
Mayor of London Boris Johnson was in Wimbledon today (May 14) to visit a prototype housing project recently unveiled in Wimbledon.
The pre-fabricated Y:Cube was installed outside Tower Lodge at the YMCA in Wimbledon town centre earlier this year to demonstrate a potential solution to the capital's housing crisis.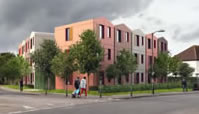 Mr Johnson heard how a planning application consisting of 36 Y:Cube units has been submitted for a site in Mitcham (left).
He said: "It is a very flexible scheme, although it won't necessarily work everywhere. But it is part of the housing solution.
"The big mission is to build 100,000 more affordable homes, but this is robust and we are happy to help the YMCA with the idea."
He also met YMCA resident Shantae Whyte, aged 22, who lived in the the Y:Cube for a week to see how she liked it.
She is now back in her room in the main YMCA block, but said: "I had a great time here and I would hope that one day I will be one of the first residents."
Richard James, CEO of YMCA LSW, said the Y:Cubes would cost £30,000 to build and had a 60-year life span. Not only would they be offered at affordable rent, but they'd only cost around £1 a day in energy costs.
Before visiting the Y:Cube, Mr Johnson also checked out the YMCA's soft play and children's areas.
May 14, 2014