Drama, music and tragedy are on offer as legendary show comes to SW19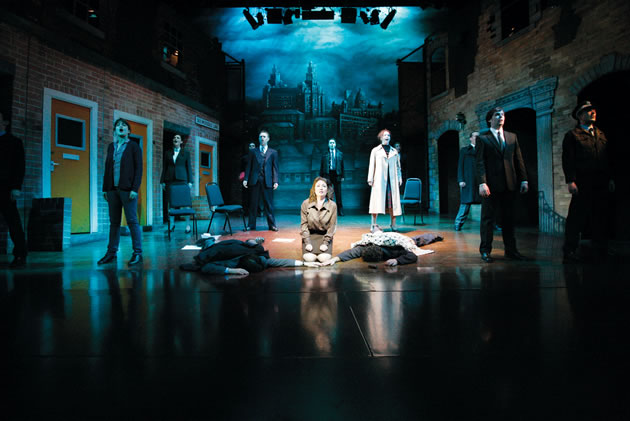 Nikki Evans is centre stage as Mrs Johnstone in Blood Brothers
Regular musical-goers of a certain vintage are almost certain to have seen at least one version of Blood Brothers, which has been performed for more than 40 years and amassed more than 10,000 West End performances.
This version of Willy Russell's tale of twin brothers separated at birth, to reunite with fatal consequences, has not long resumed its nationwide tour after nearly two years of dark theatres and is playing at New Wimbledon Theatre until Saturday (February 12).
I was intrigued to see if this show, which was first performed as a school play at a Liverpool comprehensive in 1981, would stand the test of time.
It made a refreshing change to see several groups of schoolchildren on the Broadway as we queued to take our tickets. I wonder if Willy Russell had any idea that the show would go on to become a staple of the school syllabus?
It has earned its place there through its mix of themes based on class, loyalty, family ties, love, revenge and coming of age.
The near capacity theatre settled down to a dramatic opening with the covered bodies of twins Mickey and Eddie, surrounded by the rest of the cast. This was a moving scene-setter before we were taken back to the birth of this family tragedy.
Robbie Scotcher as the brooding narrator was the lynchpin of the drama as a near ever present character keeping a watchful eye on developments and a constant reminder of the fateful agreement made at start of the production.
Single mother Mrs Johnstone had just given birth to her seventh child when her husband leaves her to go "dancin'" with someone else. Pregnant with twins and struggling to feed her brood, a plot is hatched with childless Mrs Lyons to give one twin away.
Mrs Lyons employs Mrs Johnstone as a cleaner and although living nearby in Liverpool, their lives are worlds apart. When the twins come along, they are separated at birth and grow up separately until a chance encounter at the age of seven leads them to become best friends, which is cemented by a 'blood brothers' ceremony.
While the narrative of Mickey and Eddie is the centrepiece of the show, it's brought to life by music and dancing, ensuring the near three-hour-long production whisks by.
Musical director Matt Malone helps create the atmosphere, with Niki Evans as Mrs Johnstone having a superb voice to make her my stand-out performer of the night.
As it's based in Liverpool, it's no surprise there is a touch of humour in the show. I also can't be the only football fan to have smiled at the Everton graffiti scrawled on the background wall - a nod to producer Bill Kenwright, who is also chairman of the Premier League team.
Every performer playing the younger roles was convincing in their child and adolescent selves, and their childhood games gave us some light refreshment from the show's darker themes.
Sean Jones as Mickey and Joel Benedict as Eddie had a natural raport as the twins. The highlight performances of the rest of the cast came from Carly Burns as Linda and Danny Taylor as Sammy.
If I'm to offer just the tiniest of criticism, I would say some of the 'scouse' accents were occasionally a little forced. But I doubt the Wimbledon audience would have noticed and they thought enough of the production to give it a standing ovation.
There's also no doubt that it's a show that has stood the test of time, with no need for any tweaking to make it relevant to today's young theatre-goers. I'm sure the experience will have moved them enough to return to New Wimbledon Theatre.
Listings information:
93 The Broadway, Wimbledon, London SW19 1QG
2 hours 50 minutes incl. interval
Mon - Sat at 19:30 until February 12
Thu and Sat at 14:30.
By Sue Choularton
February 10, 2022