Patrick Hutchinson is praised by the athletics community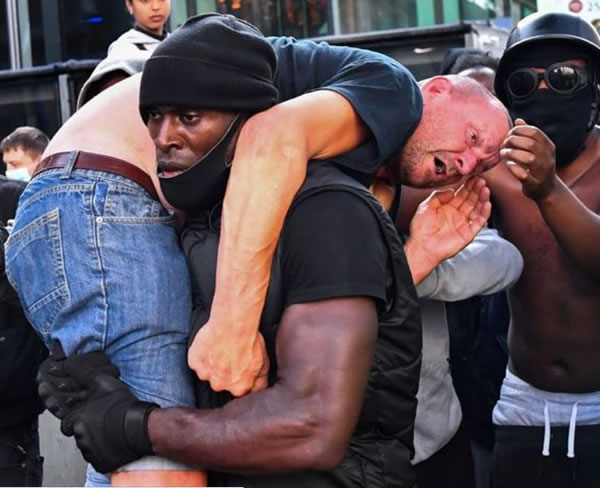 The Black Lives Matter hero pictured carrying an injured man on his shoulder during the protests in central London last weekend has been revealed as a personal trainer from Wimbledon.
Patrick Hutchinson, who made front page news carrying the injured white man away from the chaos outside Waterloo station, is a sprint coach with the Hercules Wimbledon Athletics Club.
The club said on Twitter: "Our own coach Patrick Hutchinson saved a counter-protester's life on Saturday with the help of his security team Ark Protection," the south west London athletics club said. "What a hero he is, and everything that Hercules Wimbledon AC stands for."
The grandfather, who is also a personal trainer, had gone to the protest with three of his friends with the intention of protecting young Black Lives Matter campaigners from being caught up in serious trouble.
He said himself on Instragram: "We saved a life today. It's not black v white it everyone v the racists! We had each other's back and protected those who needed us."
England Athletics shared news of the coach's actions on Twitter and added: "There are many reasons to be proud of volunteers in the England Athletics family – and the selfless actions of athletics coach Patrick Hutchinson, of Hercules Wimbledon AC, are rightly being commended by people across the country."
June 19, 2020