Coming Soon: Battersea Beer Festival
More than 150 real ales, as well as ciders and perries, will be on offer to thousands of drinkers expected at the 21st Battersea Beer Festival.
The annual event, organised by members of the South West London branch of the Campaign for Real Ale (CAMRA), takes place from February 9-11 in the Battersea Arts Centre's Grand Hall in Lavender Hill.
It's just a few minutes walk from Clapham Junction station, so is easy to reach from the Wimbledon area.
Last year there were 4,788 customers, who drank a record total amount of beer - 21,834 pints from the main bar as well as 48 tubs of cider.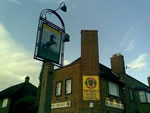 The South West London CAMRA pub of the year will be announced from the stage festival on Thursday afternoon. There are two Wimbledon pubs in the final eight - the Sultan (pictured) in Norman Road, South Wimbledon, and the Hand in Hand on Wimbledon Common.
For more information on the festival, visit the website at: www.batterseabeerfestival.org.uk
What's your top local pub? Tell us all about it on the forum.
January 27, 2011