Local postmaster wins award for the efforts made to keep his branch open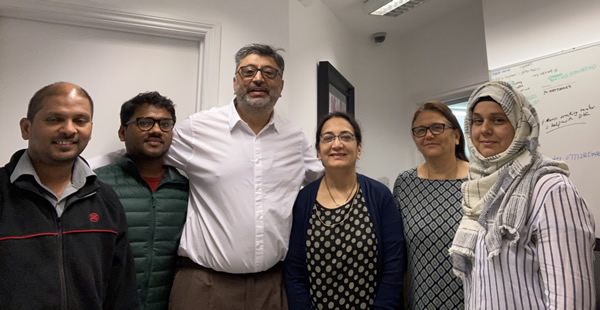 Wimbledon Postmaster Atul Bathia and his team
Wimbledon's Broadway Post Office has won the Better for Customers category at the Post Office's 'We're Stronger Together' regional awards for the Greater London region.
The awards recognise the efforts made by postmasters across the region to keep branches open during the Covid-19 pandemic and serving their local community.
The award was presented virtually to Postmaster Atul Bathia who runs The Broadway Post Office, last night (July 9) by Post Office Chief Executive Nick Read.
Postmasters who operate branches in the Greater London region had the opportunity to share their experience of running their branch during the pandemic and hear directly about the Post Office's future growth strategy.
Post Office Area Manager Nafisa Huda, said: "The Broadway Post Office won in this category for their dedication to the customer in challenging circumstances.
"Despite being short staffed, the team decided to focus their efforts on limiting the time a customer would have to spend in branch waiting. Additionally the team managed to increase their Drop & Go service to become the branch with the greatest new sign-ups in London.
"Their dedication to the customers has been recognised by their receipt of many thank you cards and gifts which have flooded into the branch in recent weeks."
Postmaster Atul Bathia, said: "I would like to thank my entire staff team both on the Post Office side and retail side who have been fantastic and have worked hard for me through this difficult time. I also have had tremendous help and support from the Post Office Thank you.
"Finally, I would like to say a special thank you to all my customers who have been supportive, understanding and caring for all of my Team and other customers by keeping each other safe!"
Nick Read, Chief Executive at the Post Office, said: "I have heard many inspiring stories of postmasters going the extra mile and I have welcomed the opportunity to hear first-hand how postmasters in Greater London have fared during the pandemic including The Broadway. All retailers have been affected and Post Office was no exception.
"The next few weeks and months will be a critical period as we try and return to a sense of normality. Post Office branches have a vital role to play in supporting their customers and communities, as well as helping small businesses and independent retailers get back on their feet."

July 10, 2020