Green Flag status for our local parks
Five parks in and around Wimbledon have won a 'Green Flag', the national award for the best public and community parks, and green spaces.

Colliers Wood Rec, Dundonald Rec, John Innes Park, Sir Joseph Hood Memorial Playing Fields (MPF) and South Park Gardens have all been awarded the Green Flag.
Paul Todd, Green Flag Award Scheme Manager, said: "A Green Flag Award provides national recognition for the achievements of all those whose hard work and dedication has helped to create these fantastic places for all to enjoy.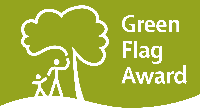 "I must also thank all this year's 800+ volunteer judges for their magnificent efforts in assessing an astounding number of applications."
Anne Dawson, secretary of the Friends of Dundonald Rec, said to the judges: "This park is at the heart of the local community. We all share a love for it and a deep conviction that it must stay green".
And after hearing of the award, she added: "It's amazing, not only for the Rec itself, it's also recognition of the Friends' hard work and commitment and to the work of the community and park-keepers".
Merton Council's cabinet member for environmental sustainability and regeneration, Councillor Andrew Judge, said: "It is great news that our parks have, once again, been awarded the prestigious Green Flag Award. This year we've picked up five awards, compared to four the previous year. Let's hope we can continue this winning streak in 2013.
"We've made a continuous effort to improve our green spaces. Well done to everyone who's worked hard to look after them. Our green spaces continue to be hugely popular to the many residents and visitors who visit Merton."
July 27, 2012