Celebrations at House of Commons event
The House of Commons was the setting for an event celebrating the end of the successful first phase of an apprenticeship scheme which is organised by a Wimbledon-based training group.
The Apprenticeship Staff Support Programme (ASSP) project has been helping boost the number of apprenticeships in London.
The event, hosted by Wimbledon MP Stephen Hammond, and organised by Wimbledon-based Capital Training Group and Merton Chamber of Commerce, brought together 34 employer engagement practitioners from training providers across the capital who had taken part in London ASSP project.
As well as hearing about its success, 'graduates' of the project were congratulated by Mr Hammond and presented with a certificate of Continuing Professional Development (see picture below).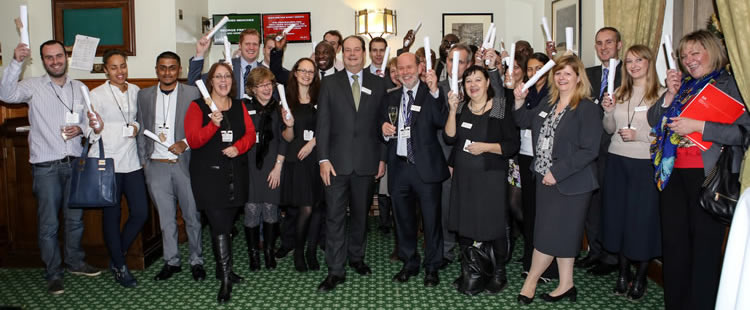 Capital Training Group Ltd, in partnership with Merton Chamber of Commerce, was awarded the contract to deliver the London ASSP project by the Association of Employment and Learning Providers (AELP) as part of a nationwide programme to 'develop staff to achieve best outcome for learners'.
The ASSP contract for London builds on the good practice developed by Merton's Economic Wellbeing Group and Merton Chamber of Commerce's 'Take One' campaign that has created over 150 new apprenticeship places through brokering a partnership between businesses, training providers and young people.
Merton Chamber's CEO Diana Sterck, the driving force behind the 'Take One' initiative, said: "Increasing the number of apprenticeships within small and medium enterprises undoubtedly represents a challenge but it is one of the top priorities to help address the employment and skills needs of London.
"New plans are being developed to put employers in the driving seat by giving them control over the funding of apprenticeship training, so it is vital for the capital's training providers to improve and develop their relationships with local business. Our programme helps providers achieve this with an on line staff training toolkit, by sharing current good practice and the expertise we have gained through the Take One initiative and by offering expert advice and support."
A total of 64 employer engagement practitioners from colleges, private and voluntary sector training providers took part in four ASSP project workshops held in venues across the capital in October 2014.
Shirley Woodcock, Business Development Manager at Capital Training Group confirmed: "The feedback from our London workshops revealed training providers' ambitious plans for growing the number of SMEs they currently engage with in the short and long term.
"Delegates at our workshops estimated they are currently working with 6,336 employers across the capital. The same group of delegates is projecting that in the short term (six months) they are planning to increase engagement by over 40% and in the long term (12 months) they are aiming for a massive 140% increase to engage with over 15,000 SMEs. The London ASSP project is delighted to be playing a part in helping training providers achieve their goals."
December 14, 2014