With Ricky Cool and the In Crowd
Visit one of Soho's iconic music venues of the early 1960s in the company of Ricky Cool and the In Crowd when they play at the Tara Theatre in Earlsfield.
Red Hot Rhythm and Blues will be served up with a side order of classic early Jamaican grooves just as it was at the Flamingo's legendary 'All Nighters' when Georgie Fame and the Blue Flames were the resident band.
Not only was the Flamingo Club a home for the burgeoning Mod scene of early '60s it also boasted a cosmopolitan clientele where black American GIs and West Indians would rub shoulders with pop stars, actors, socialites, gangsters and prostitutes. It was the place to be go to and be seen and played its own small part in the biggest political scandal of the 1960s – The Profumo Affair.
Midlands-based Ricky Cool has fronted bands including The Icebergs, The Rialtos. He also co-founded The Big Town Playboys, the band that bought the talents of Mike Sanchez to Worldwide attention. He has toured with the likes of Billy Connolly, shared a stage with George Harrison and played in the same band as Robert Plant. Now, with his six-piece band The In Crowd, Ricky Cool is bringing his own inimitable music to the Tara.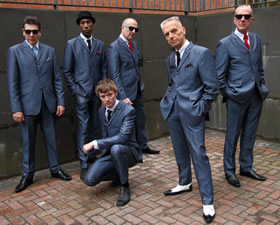 As Ricky said: "The band members are all top class musicians with excellent pedigrees, who have worked with artists including Ruby Turner, The Beat, Alexis Korner, X Ray Spex and Fine Young Cannibals. The music we play is timeless and our show is enjoyed by young and old alike. The enjoyment we have on stage rubs off on our audience and a great time is had by one and all."
The show is at the Tara at 7.30pm on Saturday (October 28).

October 23, 2017