Wimbledon children's theatre is re-developing, but needs cash for the work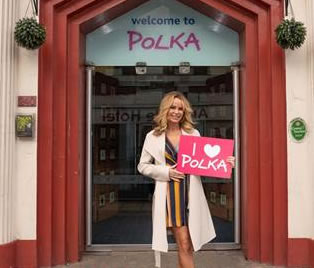 Amanda Holden, patron of Wimbledon's Polka Theatre and judge on ITV's Britain's Got Talent, has made a special visit to kick start the public fundraising campaign for Polka.
Amanda (pictured above) came to say a fond farewell to the team, visiting school children, the 40-year-old building and shared the news that one family will have the opportunity to win four tickets to the live semi-finals of Britain's Got Talent in a prize draw.
She is supporting the redevelopment of the theatre in Wimbledon which will create a new state-of-the-art theatre facilities and the UK's first purpose-built early years theatre for under 6s. It will ensure Polka's long term sustainability both artistically and financially for generations of children to come, but to do this Polka needs to fundraise an extra £1 million.
Amanda Holden said: "I first became aware of Polka Theatre in Wimbledon around 2008 when my daughter Lexi was about two years old. I wanted to take her to see a show that was suitable for young children. Since then we've seen so many shows there together and as a family.
"The staff at Polka have always been delightful and we've loved every show we've seen, however the building is in desperate need of renovation. The refurbishment will allow even more children to experience the joy of theatre made just for them. The new space will provide better access for performers and children who take part, their first on-site rehearsal space, a new cafe and a brand new theatre made especially for children under six.
"I feel it is enormously beneficial for children to be lucky enough to experience the atmosphere of sitting in a theatre to open their minds and imaginations from an early age. Going to the West End can be an expensive activity for a family which is why investment in local theatres is essential, particularly one like Polka that creates work designed especially for children. Together I know we can raise the £1m needed for a first class venue."
Polka's Artistic Director, Peter Glanville and Executive Director, Lynette Shanbury were able to talk through the redevelopment plans with Amanda in detail during the visit.
Peter Glanville, Polka Theatre's Artistic Director, said: "We are delighted to have Amanda Holden as a Polka Patron. Having visited us on many occasions with her family, she passionately recognises the importance and uniqueness of the venue as a creative and inspirational hub for children, families and schools. Her recent visit was an opportunity to talk in more detail with her about our Future Polka redevelopment, and we are honoured to have her as a dedicated ambassador for this campaign".
Amanda was able to also meet Jan Blake the creator of Polka show In the Winter Wood, the cast of The Wind in the Willows and Sandra Strachan AKA Lady Wimbledon. On behalf of Polka Theatre Amanda also thanked local company Icon Solutions for their £100,000 donation to the FUTURE POLKA redevelopment fund.
Tom Kelleher, Icon's Commercial Director, said: "Polka Theatre is an important centre of creativity and support for the community of Wimbledon and surrounding areas. As Icon Solutions originates in Wimbledon, it is incredibly important to us to support initiatives which benefit our local community. We have supported Polka's Freefalling Programme for a number of years and we have seen the difference this programme has made to children's social confidence, creative thinking and academic achievement. It is an honour to be associated with Polka Theatre and we will continue to support their valuable work and the joy they bring to so many."
Amanda was able to spend some time with school children who had visited Polka to see The Wind in the Willows, especially Jessica who gave Amanda a handmade birthday card.
Their teacher, Anna McNamara, said: "Not many of our children have encountered a celebrity before and they were all very excited to meet Amanda Holden after seeing The Wind in the Willows. One of our children had made her a birthday card and the opportunity to present it to Amanda and chat with her for a while. The child had written in the card that she hoped to be an actress when she grew up just like Amanda. We come to Polka Theatre because it is known as the best children's theatre in London. The plays performed are always of a high quality and directed in a way that captures the attention of children from all backgrounds. It is the perfect place to get children to engage in the arts."
Polka, the pioneering theatre for 0-12 year olds based on The Broadway, closed to the public on February 17 to begin the redevelopment. It will re-open upon completion of the new building in summer 2020.
Families can enter Polka's Britain's Got Talent ticket prize Draw here: https://polkatheatre.com/bgt/.
A family must include at least one child over the age of 12. Full terms and conditions are available on the website. The competition closes at midnight on March 31.
February 28, 2019