Surprise filming in recognition of pandemic community work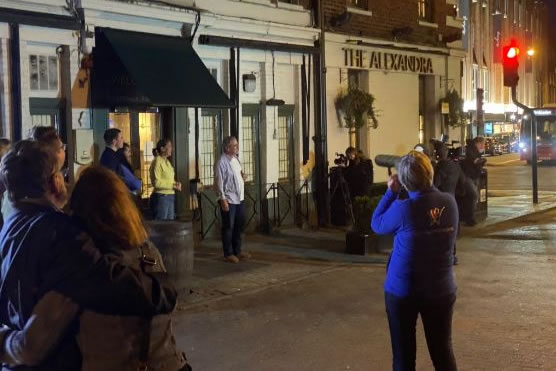 Pic courtesy of @Neilm74
Wimbledon's Alexandra pub is to appear on BBC's The One Show on Thursday in recognition of community work carried out during the coronavirus pandemic.
Mick Dore, landlord of the town centre Young's pub at the bottom of Wimbledon Hill Road, was surprised by the cameras when he stepped outside after running his popular 'virtual' Monday quiz night.
His pub has produced 4,000 meals for local NHS workers and vulnerable local adults as part of a project run by the Old Wimbledonian's Association which today (May 12) announced more than 15,000 meals had been delivered.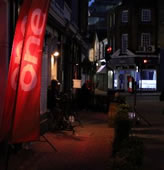 The project has involved other organisations and pubs, including the Rose and Crown in Wimbledon Village and Earlsfield's Leather Bottle.
Mick is well-known in Wimbledon for his community-spirited work, including free Christmas dinners for those who would otherwise be alone and his 'Meet Up Monday' events for the isolated.
He said on Twitter via @14thefrog after the surprise was revealed: "Coulda knocked me down with a feather. Another great @TheAlexSW19 moment".
Later Liverpool FC captain Jordan Henderson paid tribute to him when he said on Twitter: "Just wanted to say a big thanks for doing the Monday night quiz each week. You're doing a brilliant job keeping community spirit up and cooking all those meals for the NHS! Keep it going mate. #YNWA"
Neil Murphy who took the above photograph said on Twitter: "@14thefrog in total shock after the pub quiz when he realised a few of us were outside the pub and the @BBCTheOneShow were giving him a big thank you all the hard work he has done cooking 4000 meals for NHS staff @lovewimbledon"
The One Show featuring the Alexandra will be shown at 7pm on Thursday (May 14).
May 12, 2020