Marcus Gayle Leaves Wimbledon For Management Role
---
Many familiar faces will be leaving the club
AFC Wimbledon's popular reserve team manager has left the club to be the new manager of Blue Square South side, Staines Town.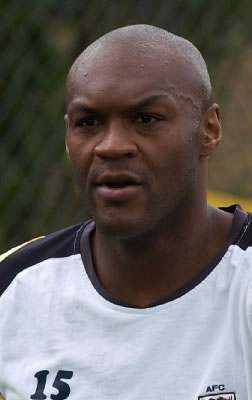 Marcus (left) said it was a far from easy decision to leave Wimbledon after nearly five years at the club, but the lure of first-team football management was too good to turn down.
"It was always going to be a tough decision," he said. "I have had 12 years collectively at Wimbledon with the latest being five great years of involvement in the new set-up, but I had to look at my own ambitions as a manager. I am very close to Wimbledon and I have made a lot of great friends there, that will not change.
"I will keep the club close to my heart. I must thank the fans, they made me feel so welcome when I returned for a second time and it was an easy decision to come back to Wimbledon when I did. I am sure our paths will cross again. You never know what will happen in the future, but right now I am concentrating on developing my management in many areas."

Marcus established himself as a favourite with the Dons faithful during seven years as a player between 1994 until 2001, and six years later he became Terry Brown's first signing as AFC Wimbledon boss.
Marcus's away shirt was sponsored this season by www.wimbledonsw19.com and Editor Sue Choularton is pictured (above right) with his signed shirt.
Terry Brown earlier announced the list of players who will be released from the club. The full list is: Jack Turner, Chris Bush, Fraser Franks, Gareth Gwillim, Sam Hatton, Brett Johnson, Jamie Stuart, Reece Jones, Ricky Wellard, Kieran Djilali. This is in addition to Ryan Jackson, Lee Minshull, James Mulley and Max Porter, who were all told in January that they would be leaving. Brendan Kiernan has been put on the transfer list on his own request.

Terry Brown paid tribute to the players released and admitted it had been a difficult decision: "I would personally like to thank every player that I have released," he said. "Every one of them has given his all in a Wimbledon shirt. They have been a credit to work with and I would be pleased to recommend these players to any manager who enquires about signing them. Sometimes there is a need to reshuffle personnel so that I can get new players in to reinforce the squad."
What do you think about the players being released? Why not comment on our forum?
May 18, 2012