Club unveil vision for 22,000 capacity stadium
AFC Wimbledon plan to move back to Plough Lane by building a new ground at Wimbledon Greyhound Stadium.
The fan-owned club has unveiled plans for a 22,000 capacity multi-purpose stadium within sight of their spiritual home.
The initial redevelopment will have a 12,000 capacity and will be used for both sporting and non-sporting events for the wider community.
The stadium will be part of a larger development which will fund the stadium construction, and the vision of a 22,000 capacity venue.
Their plans were detailed in their response to Merton council's "call for sites"– which requested anyone interested in developing a land site in Merton to set out their ideas to the council.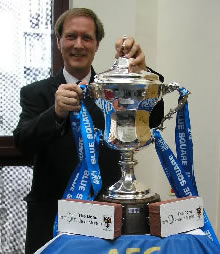 AFC Wimbledon Chief Executive, Erik Samuelson (left), said: "This is an important step in a journey we started some years ago. We have a long way to go and many major hurdles to clear but we want to build a stadium that is embedded in the community and operate it in an inclusive way. To realise that ambition we have developed a cohesive and well thought through strategy.
"AFC Wimbledon is proud of its prudent financial management, supporter participation, active volunteering and community engagement. All of this follows from our model of fan ownership. We are very grateful to Merton Council who have provided strong support for our aims and who have who demonstrated over the last few months that they understand our needs and share our vision for the next big step in our growth."

Merton Council Leader, Councillor Stephen Alambritis said: "We are delighted with the level of interest in the greyhound site and the investment potential for the borough. There is all-party support for AFC's ambition to return to their roots and come back to Merton.
"I understand the largest response to the consultation on sites came from supporters of AFC Wimbledon who want a football stadium with community facilities in the borough. Not surprisingly, they identified the site of Wimbledon Greyhound stadium as their choice of location.
"The council will now assess all responses received and work with local residents and landowners, and other interested parties, to find the best solution to continue the sporting legacy on the Wimbledon greyhound site."

Local ward councillor for Wimbledon Park, Councillor Oonagh Moulton said: "As councillors for Wimbledon Park Ward, my colleagues and I are delighted to hear that AFC Wimbledon are seeking to return to the Borough and to Plough Lane, which is within our ward and the spiritual home of football in Merton.
"We will of course be seeking to ensure that residents are fully consulted and involved in the plans as they develop, as well as any possible alternative proposals that come forward, so that potential issues over parking, litter and noise can be properly addressed and any other concerns residents might raise regarding this redevelopment are well-managed by the council."
What do you think? Why not comment on our forum?

August 7, 2012