Club is offering guided tours of the land it proposes to develop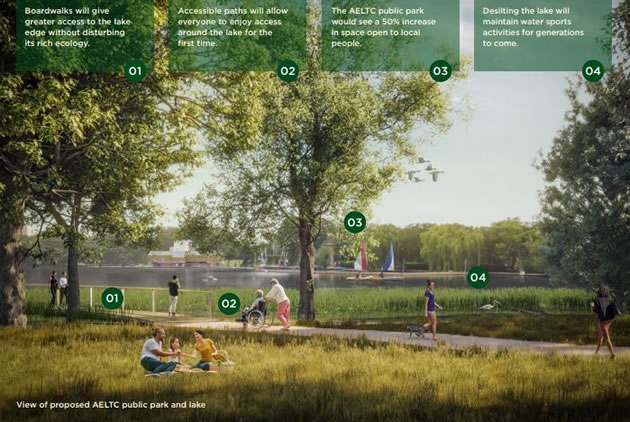 An image from the AELTC newsletter
Local residents are being offered guided tours of the area where the All England Club Tennis Club (AELTC) proposes to build a new park as part of its controversial expansion plan.
The club wants to expand into land formerly used by Wimbledon Park Golf Club under plans that would span 67 hectares between Wimbledon and Southfields.
They have said the scheme, which includes an 8,000-seat show court, would bring substantial public benefit to the area.
In a glossy new brochure entitled "Community Newsletter" they have invited local residents to take part in a series of organised guided tours. During the walks the AELTC says its experts will explain how their proposals will be "enhancing the character of the landscape, bringing back historic lost features, and how we will be increasing biodiversity and looking after nature, trees and wildlife."
The 60-75 minute walks will be followed by a Q&A, and the next one takes place this Saturday (25 February ), with subsequent tours on Friday 25 March, Saturday 26 March, Friday 28 April and Saturday 29 April. There are three taking place on each day, and there will be more if there is demand.

The Community and Neighbours section on its website also details offers it is making to the local community - including shop and café discounts, free entry to the Wimbledon Lawn Tennis Museum and a community ticket scheme for this year's championships.
Its Community Newsletter also reveals it expects Wandsworth and Merton Councils to hear their planning application before this year's tournament begins on 3 July.
AELTC Chief Executive Sally Bolton says in the newsletter that if they obtain planning permission they will undertake a legally binding permanent commitment to offer public access to the parkland.
She explains, "Critical to the project, is the opening up of one of the largest areas of private parkland in London for public access. A new 23-acre public park will be accessible year-round with some limited restrictions during Qualifying and The Championships.
"What was a private golf course completely shut off to the public and local community for well over 100 years, will now become a beautiful new parkland for the community to enjoy and in which nature will thrive.
"We are committed to providing permanent public access to this parkland, ensuring the scheme benefits our local community not only now, but for future generations to come."
The newsletter states that seven grass courts will be made available for public use outside of the Championships. It also says that accessible paths will allow access around the lake to everyone for the first time.
But the club is still facing opposition to its scheme, with a 'Save Wimbledon Park' petition approaching 9,000 signatures.
The campaigning group's environmental expert Dr Dave Dawson has recently reported that four Little Egrets have been seen perched in the old willow trees around the lake. These are protected birds first seen on the lake in 2019. He believes a heron family are now established on the lake's island.
He said, "The AELTC plans to replace the wet woodland, shallow water and waterside vegetation used by these birds with a big new reedbed. There is a fashion for reedbeds, and the AELTC claims that the new reedbeds will benefit biodiversity.
"However, most of the special birds found at reedbeds already occur at the lake. Those that are missing (breeding Bitterns, Bearded Tits and Marsh Harriers) require areas of reedbed larger than the whole lake. The implication that such species will benefit from the proposed extra area of reedbed is misleading. If we wait long enough, we might see a lost individual of one of these species passing through in search of richer pickings, but there is no chance they will come to breed."
The AELTC was recently refused planning permission to fell 18 trees running alongside the fairways of the former golf club. But in its newsletter it stated: "All 41 current veteran trees are retained and protected, as well as future veteran trees. 1,500 trees of varying sizes and maturity will be planted."
February 24, 2023